October 20, 2007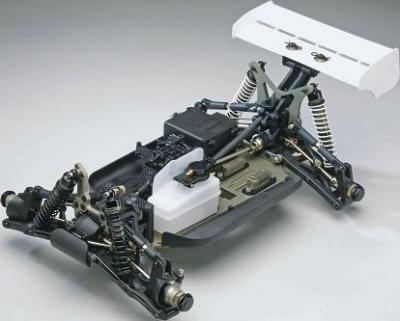 It's been a long time coming but O'Donnell have finally released information about their new 1/8th scale 4wd buggy, called the Z01-B. A long time in testing by team driver Jared Tebo, the car has had a lot of success on the track yet very little information has been seen about the car so far, with the exception of some photographs. The Z01-B is said to the most dependable, durable, consistent buggy platform ever created for 1/8 scale nitro buggy racing and while no definite release date was given, expect it soon.
Click more to read the full feature list…
Feature list
• Low-profile oval air filter — filters out dust, dirt and grime
• Adjustable front/rear swaybars
• Aluminum heat sink engine mount
• Aluminum rear toe-block
• Transponder mount
• Front/rear chassis braces
• Multi-spoke wheels (4)
• Covered wheel nuts
• Race-legal fuel tank w/splash guard
• Low-profile polycarbonate body
• Molded nylon wing
• High-performance rubbersealed bearings
• Independent front suspension w/adjustable camber, caster and toe-in
• Rapid Reaction independent rear suspension w/adjustable camber, toe-in, ride height and wheelbase
• Spiral-cut, machined steel pinion and diff gears for high efficiency, less friction, better mesh and more tooth contact
• Sintered metal sun/satellite gears
• Machined/lightened steel spur gear
• Hex-head hardware — Strong, countersunk and strip resistant. Full-length threads on hardware and attachment points to "lock" parts in place.
• Sealed receiver box
• 3 constant-pitch spring sets — Soft, medium and firm, color-coded for easy reference
• Captured hinge pins
• Dual-disc brake system — Features adjustable front/rear bias, an oversized front disc, heat-treated hardware and extra-thick brake
• Dual, high-volume fuel filters — Minimize maintenance and hold 5 cc of fuel!
– Optimized servo positioning lowers the CG and turns the arm and linkage inboard to eliminate impact damage.
– Outdrives are machined, lightened and nickel-plated, to reduce weight and wear.
– Hard anodizing and CNC-machining helps the ZO1-B's lightened aluminum towers outlast anything the track dishes out.
– Threaded, hard-anodized aluminum shocks feature polished 4mm shafts and "High-Volume" bodies for maximum durability and dampening.
Hard-anodized, lightened, CNC-machined aluminum parts
• Rear shock tower
• Front shock tower
• Front steering knuckles
• Shock caps
• Countersunk main chassis
• Center dogbone driveshafts
Nickel-plated steel parts
• Front/rear CV driveshafts
• Lightened outdrives
• Steering link
• Camber link
Carbon-fiber components
• Servo tray
• Front plate
• Center diff top plat
Source: RCCA [rccaraction.com]
---