October 12, 2007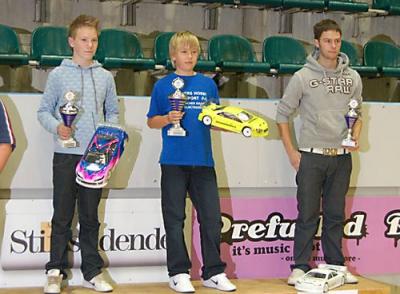 We received a report from the Schumacher Cup 2007 hosted by the Aarhus RC Randers and Randers Hobby Import (importer of Schumacher products) and held in the sports arena Vejlby Risskov Hallen in Aarhus. In the Stock/beginner class it was local youngster Frederik Larsen who was very fast with his Schumacher car from the beginning the of the day and was followed by Brian Lage and female driver Emma Lundgreen in the qualifying rounds. Electronic problems put Mads Madsen in to fourth spot after qualifying, but he had a better performance the A-finals and was able to put pressure on Frederik Larsen, but Frederik was able to keep his pace and won two out of the three finals to take the win ahead of Mads Madsen in 2nd and Brian Lage in 3rd.
Continue reading…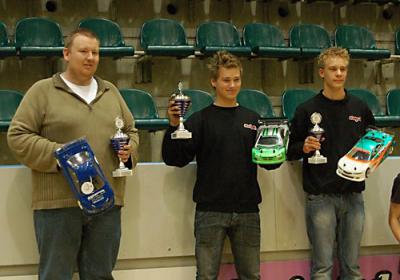 With 45 competitors in Super Stock 19T class, this made the racing close and exciting and in qualifying it was the Corally driver Mike Hansen who was the big surprise setting the fastest times followed up by Nicolai Nielsen driving a Yokomo and Associated TC5 driver Soren Jeppesen. Many expected Mike not could keep the speed in finals but he was able to win the first and third final with a very good speed and became overall winner followed by Soren Jeppesen and Rasmus Callesen.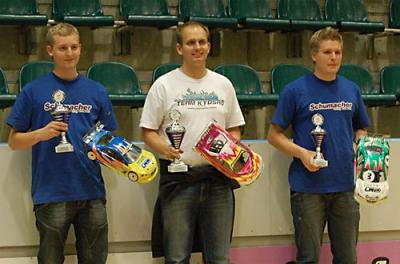 The "Schumacher" brothers Soren and Johan Eskildsen put a huge pressure on always fast Kyosho driver Steen Graversen in qualifying rounds for the modified class. Johan and Soren were able to make some very fast lap times, but some very small mistakes from Soren and Johan kept them away from pole position and this then went to Steen, old boy Troels Troelsen could place himself fourth after qualifying. In the three A-finals Steen was able to make a gap on Johan and Soren and was able to hold the distance to the Schumacher drivers through the finals.
Modified A-final result was following:
1. Steen Graversen
2. Johan Eskildsen
3. Soren Eskildsen
View the complete image gallery here.
Source: Race Gallery [racegallery.dk]
---