October 5, 2007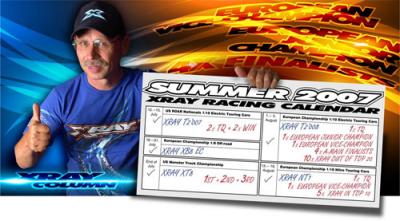 The 12th instalment in the Xray column from Xray owner and chief designer Juraj Hudy is now online. In this months column, Juraj talks about this summers busy racing schedule and goes into details about the good, the bad and the unfortunate from each of the major events that they attended.
With great results at the Euros B where Team XRAY won the European Championship title, and also with good performance results at all the national races and the result at the Warm-up, I was very confident for the Euros. The race actually started very well and not only Yannick but also the rest of the team were doing very well. Clearly it was Yannick who was super fast from Day 1 and in the last qualifiers was having a "good battle with Robert Battle" who at the end TQ'd just 0.5 sec in front of Yannick.
Read the full column here.
Source: Xray [teamxray.com]
---