November 7, 2007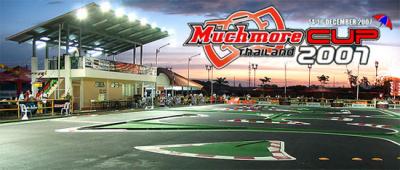 We were contacted by the organisers of this years Much More Cup in Thailand to give us details on this great event held on the 14th – 16th of December at the Trang RC Raceway, a world class track situated in Trang city of the mid-southern part of Thailand. The track has excellent facility, whether it is the drivers' stand, pit area with lights and cleaning area and is located near the city center where there is an abundance of food and entertainments. Trang is one of Thailand's jewels in terms of natural treasure with its heavenly beaches and waterfalls, which means it is also a place for the family to relax and have a holiday.
Read more details…
This leads to the reason that we will have the options of 2 hotels so that drivers or drivers and family have the choice of being 10 mins from the track in the city in an excellent hotel with entertaining facilities at Thumrin Thana hotel or 30-35 mins away to be next to nature on the beach at a great beach resort at Amari Trang Beach Resort & Spa.
Schedule: 14-16 December 2007
14th – Controlled practice
15th – Qualifying rounds
16th – Finals + Price giving party @ Thumrin Thana Hotel
Flights: There are 2 alternatives
1. Via Bangkok to Trang by Nok Air @ 0920 & 1425 Daily from DonMuang Airport – Please keep in mind that international flights usually land at Suwanabhumi Airport. Therefore allow for 30-40 mins taxi trip to DonMuang.
2. Directly to Krabi International Airport, which you will need 1.5 Hour trip by car into Trang.
Please email jarbmx2000@hotmail.com about your travel choices and it would be great if you could travel in groups, so that we can all save on traveling costs and also increase efficiency for us to service all international drivers the best we can. We are welcome to all discussions, so please email us.
Hotels:
1. Thumrin Thana Hotel – Trang (http://www.thumrin.co.th/thana_eng/index.php)
2. Amari Trang Beach Resort & Spa (http://www.amari.com/trangbeach/)
Please check out the hotels by going to the links provided. It will tell you about its facilities and also the rates. Concerning the rates, we are dealing with the hotels directly for this event. Therefore the room rates will be better than the rates in the websites.
Please confirm your reservations with jarbmx2000@hotmail.com before 1 December 2007. Any later confirmations might result in not being able to stay where you wanted.
Racing Classes:
– Modified
– Stock 23T
– Brushless 10.5-13.5T
– TT01 30T
All Touring car classes will use Sweep36 controlled tires. The tires will be selling at the track at a very reasonable price as we want to promote a relaxed atmosphere.
Rules & Regulations:
Weight:
6 cells touring cars – 1525g
5 cells touring cars – 1450g

Wing:
The top edge of the rear wing must be at the same height as the highest point of the car's roof.
Please register through www.muchmorethailand.com or jarbmx2000@hotmail.com, thanks for the support.
---