November 5, 2007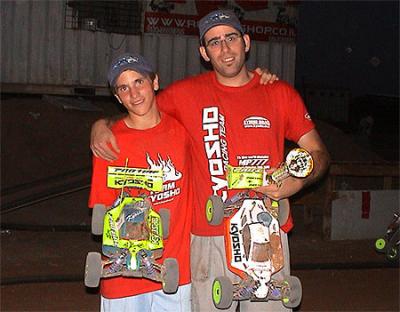 We received this report from the first race in the 2008 Israeli League for 1/8 scale buggy that took place last weekend at the Farm 07 race track near Ashdod. This was the first race of eight that are scheduled to be run in the 2008 Israeli Season with the 6 best out being counted. Top drivers all over the country, North and South participated the event and it was Yaniv Sivan that claimed the TQ after qualifying but a clutch problem in the Semis cause him to lose his place in the Final.
Continue reading…
The A final was very exciting as usual with Dotan Halevi taking the lead followed closely by Adir Zvoloni and Nir Sivan. Dotan had engine problems which allowed Adir to move up into first followed by Nir Sivan, all the while Alon Malzov who had started from 9th position was moving his way up the field with some great driving, eventually taking 2nd. Nir Sivan then ran into engine problems and this meant that Alon Maltzov could take over at the head of the field, however, after holding the first position for a long time Maltzov had to quit the race due to technical problem. This meant that Nir Sivan could once again move into first position followed by Guy Renkvich in 2nd with Daniel Kugler in 3rd spot, and that was how it finished.
Special thanks to the Farm 07 organizers – Paul Price, Amit Bublil, Dotan Halevi, Daniel Kugler that organized wonderful event and to the refeere Meir Azolay.
Final Results:
1. Nir Sivan / Kyosho / RS5 / Pro-Line
2. Dan Price / Losi / Radical / Pro-LIne
3. Daniel Kogler /Losi /OS / Pro-Line
4. Guy Rinckevich / Kyosho / OS / Pro-Line
5. Yaniv Levi / GS / OS / Medial-Pro
6. Paul Price / Losi / Radical / Pro-Line
7. Adir Zvoloni / Kyosho / RS5 / Pro-Line
8. Dotan Halevi / Losi / Radical / Pro-Line
9. Alon Maltzov / Kyosho / RS7 /Pro-Line
10. Ofir Avitan / Xray / OS / Pro-Line
Source: RC Zone [rczone.co.il]
---