January 29, 2008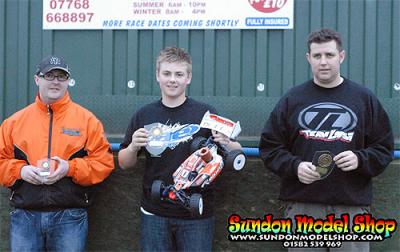 We received a report from the recent 5th round of the Novarossi Winter Series that saw some fantastic racing after the weather eased off enough for the Novarossi Raceway track to dry out for the event. Elliot Boots (RC8 RB) owned qualification taking all three rounds with David Spashett (Losi Novarossi) second and Edd Kerry (Losi Novarossi) third. In the Truggy class it was a battle all day between John Hazelwood (Xray OS) and Reece Sawyer (Losi Novarossi), both drivers missing one round during the day due to their mechanics whooopsy's but still all in good fun. John took top spot for the final with Reece second and Mark Truslove (Losi Novarossi) in third.
Continue reading…
Bumping up from the B final in the buggy class we had two Losi drivers Pete Stevens and Mark Collyer, both driving consistent and steady for the 20 minute final. Ricky Cooper just missing out by less than 4 seconds.
The A final was a relatively clean start but a small mistake from Elliot gave the lead to David for the first few laps. It was not long until Elliot was back on the tail of David and this is where they stayed for the next 10 laps, never touching but racing hard and clean. Elliot finally found some space and took the lead and then control of the final. The positions in the final then stayed very stable with the only real battle between Richard Bettaney and Kevin Brunsden, small mistakes from both drivers eventually resulted in Kevin taking the third spot.
Final Result
1. Boots Elliot – Associated RC8 / RB S7
2. Spashett David – Losi 8ight / Novarossi N21B ECO
3. Brunsden Kevin – Xray XB8EC / Falcon
4. Bettaney Richard – Losi 8ight / Novarossi PLUS215KT
5. Cree Richard – Associated RC8 / RB
6. Dell Mark – Losi 8ight / Recab JH V-1
7. Stevens Pete – Losi 8ight / Novarossi PLUS215K
8. Ashby Reece – Associated RC8 / RB
9. Hayden-Ball Darren – Kyosho 777 / RB C6 BBT
10. Collyer Mark – Losi 8ight / O/S
11. Drescher Craig – Associated RC8 / RB Concepts
12. Kerry Ed – Losi 8ight / Novarossi PLUS215K
The truggy final was fantastic to watch, John Hazelwood and Reece sawyer never more than a second apart. Small mistakes from either driver and the lead would change hands. Towards the end of the final John managed to get a small gap from Reece and it looked like race over, but some bad luck and John had to retire leaving Reece all the victory spoils. Joe Joyce once again put in a solid excellent drive to pick up where John stopped to claim second spot.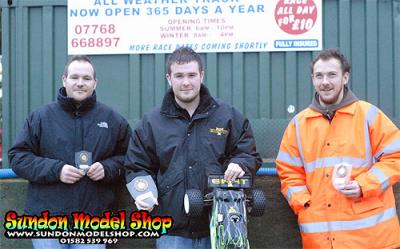 Final Result
1. Reece Sawyer – Losi 8ight / Novarossi
2. Joe Joyce – Hong Nor X1 / Sirio
3. Hazlewood Jon – Xray / OS Engines
4. Truslove Mark – Losi losi8 / Novarossi
5. Body Paul – Hobao Hyper / RB WS 7III
6. Tomlin Spencer – Hoboa Hyper / Novarossi 367plus2
7. Stuart Colly – Hobao Hyper / Novarossi
8. Balson Mark – Losi 8ight / RB w7
9. Upson Tom – Hong Nor X1 / OS Vspec
10. Tubby Sean – Xray XT8 / Werks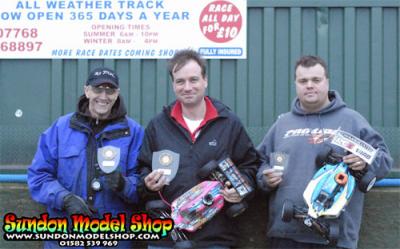 Source: Horizon Hobby [horizonhobby.co.uk]
---