January 25, 2008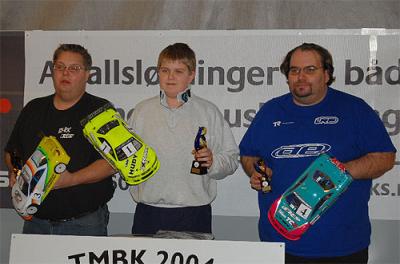 The first race since the ban on racing in Norway due to exploding cells was lifted took place recently in Tromsø, a city 1700km north of Oslo. There was 2 qualifying heats on Saturday and 1 on Sunday and after both days of qualifying in Modified it was Xray racer Adrian Berntsen on pole followed by Corally racer Jon Åge Olsen in 2nd while Serpent racer Goran Langsholt finished up in 3rd. In 19T stock class Marcus Alvestad, driving a Kysoho took top spot ahead of Petter Chruckshank in 2nd and Leif Tore Stensrød in 3rd.
Read the rest of the report here…
Modified Final 1
This was the day of Adrian Berntsen (Xray) leading the final from start to finish, he was followed by Goran Langsholt (Xray) and John Lara (Associated)
Modified Final 2
Again Adraian Berntsen (Xray) was in charge at did his job and leaving the rest behind, and after some incidents with cars to overtake Jon Age Olsen (Corally) was on 2 spot followed by Ivar Johansen on 3rd, this made the 3 final wide open for 2&3rd spot since 5 drivers could take them spots
Modified Final 3
Adrian Berntsen (Xray) pulled away like he did in the 2 first finals, and after an big mistake Jon Age Olsen (Corally) dropped down on the list, leaving Goran Langsholt (Serpent) and John Lara (Associated) to fight for the runners up spot. After ended final 3 Adrian Berntsen was on top like he was all weekend, followed by John Lara (Associated) and Goran Langsholt (Serpent), on the total list there was a close 2&3 and only separating by 1,5 sec, total result list modified
Modified Results
1. Adrian Berntsen
2. Gøran Langsholt
3. John Lara
4. Jon Åge Olsen
5. Ole Chr Solli
6. Ivar Johansen
7. Ronny Mikkelsen
8. Odd-Ivar Jensen
9. Håvar Pedersen
10. Ole Morten Hansen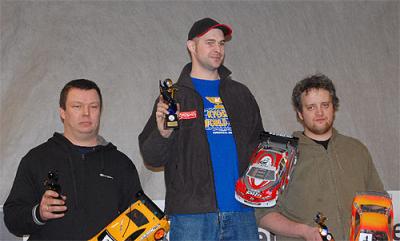 Superstock Final 1
The big question could anyone get on to Marcus Alestad, local hero Petter Chruckshank did his best but he did not manage to get close enough on Marcus to put any pressure on him. Standings after final 1 was Marcus Alvestad, 2 Petter Chruckshank, and Robin Kristiansen
Superstock Final 2
In this round Petter Chruckshank did get closer on Marcus but after 5 min of driving there was 1 lap up to Marcus Alvestad who did secure his win in front of Petter Chruckshank And Tore Evanger on 3rd
Superstock Final 3
Since the 2 first places was decided, the fight was on the 3rd spot and the did Svein Erik Pedersen grab from former club mate Tore Evanger.
Superstock Results
1. Marcus Alvestad
2. Petter Chruckshank
3. Svein Erik Pedersen
4. Tore Evanger
5. Robin Kristiansen
6. Svein Raanes
7. Kristian Larsen
8. Espen Hansen Eiane
9. John Anders Olsen
10. Leif Tore Stensru
Source: Modellbil [modellbil.net]
---