February 11, 2008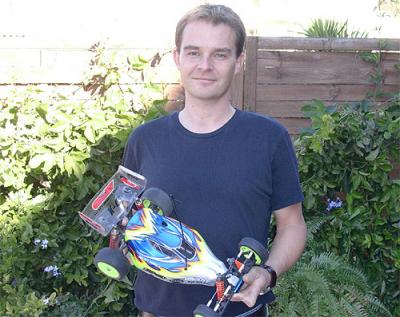 2007 French buggy Champion Alexander Valente has joined the X Factory Team. Valente drove his own X -6 to win in the first three events of the 2007 French Championship and took second in the fourth event to lock up the title. "I'm looking forward to this season so much," said Alex. "It's hard for me to believe that now I'm part of the X Team". Valente added,
I was hooked on The New Math when I first heard about the concept. If just makes so much sense, I had to get one. And what a dream to drive, right from the start. Brian Kinwald calls this car 'cheating,' and I knew why right from my first lap. Now I'm part of this exciting innovative Team. It's amazing! The X – 5 is the perfect car for our French outdoor tracks. I haven't driven 4WD for quite some time, and can't wait to start driving it. That single-belt driveline is just ballistic, and the xx-4 suspension is still the best one ever built. With a year of driving the mid-motor X – 6, I know I'll be right at home with the X – 5. Support from the other Team drivers has been fantastic. It's so much fun being with a group of guys who are so smart and share my desire to win. So far it's just been E-mails because of distance, but it's a super Family.
Valente will run the full schedule of French National Championship races, as well as the Coupe De France and Petit R/C races in 2008.
Source: X Factory [2wdrc.com]
---