February 11, 2008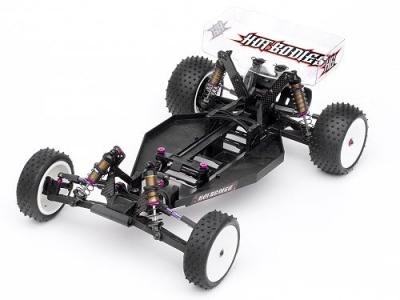 We already brought you some information, as well lots of close up photos of the new Cyclone D2 from Hot Bodies during the Toy Fair last week, but now HPI have published complete information about the car. In development for over a year it has been designed with strength, tuning, maintenance and compatibility in mind. The most unique thing you'll notice is the aluminium main chassis, machined from 7075-series alloy, serves as the backbone of the Cyclone D2 and also as a solid mounting point for all the critical components of the buggy. The battery tray can fit standard 6 or 7 cell sub-C batteries or any hard case Li-Po pack designed for RC cars, held in place with large thumbscrews for a secure fit. By using stiff foam padding and offset cell trays you can easily alter the weight balance of the buggy for increased steering or more traction.
Continue reading…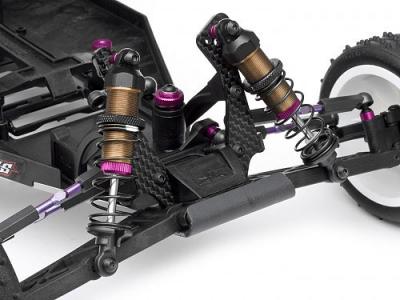 At the front end, you'll find a unique split shock tower that securely mounts the shocks in place using one of 5 shock mount locations. Three mounting locations on the suspension arm give you a multitude of tuning options, and vertical camber link ball studs on the front steering hub allow you to quickly make roll centre adjustments.
At the rear the suspension setup is similar, with a split shock tower, 5 upper shock mount locations and 3 more on the arm. The rear hubs also feature quick roll centre tuning with vertical ball stud mounting, and CV-style driveshafts get all the power from the motor to the drive wheels.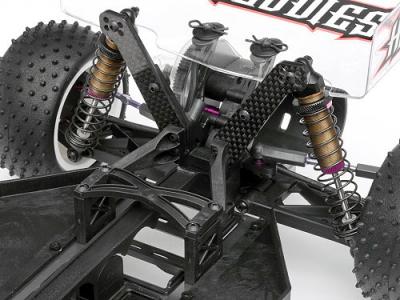 The 3-gear transmission and motor are mounted in the traditional manner, behind the shock tower, to fit the driving style of nearly all off-road racers. Carbide diff balls and long-wearing components inside the diff and transmission reduce maintenance times and make sure that all the power from the motor gets to the ground.
The shocks at both ends use hard-coated, threaded aluminium bodies with upper and lower threaded caps and titanium nitride-coated shafts for long life and durability.
The wing can be mounted either high or low to enhance traction or speed, depending on the needs of the track.
– 7075-series aluminium main chassis
– Fits 6-7 cell NiMH battery packs or RC Li-Po packs for maximum versatility
– Battery held in place with thumbscrews for secure fit
– Maximum versatility out of race-optimized suspension
– Hard-coated, threaded shock bodies for fast adjustment
– Upper and lower threaded shock caps for quick rebuild times
– Unique split front & rear shock towers with 5 upper and 3 lower mounting points
– Vertical ball stud links for simple roll centre changes
– Three-gear transmission for optimal drivetrain efficiency
– Aerodynamic fitted bodyshell with scoops and cooling vents
– High downforce wing can be mounted high or low for best effect on the track
Source: HPI [hpi-europe.com]
---