February 5, 2008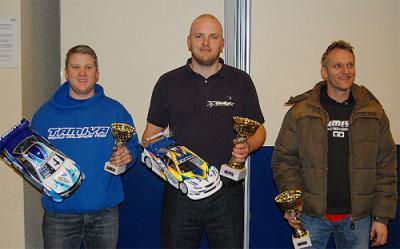 The 4th round of the Norwegian Winter Series took place this past weekend hosted by Borg MRK, who presented the racers with a small and tricky circuit to race on. In qualifying for the modified class it was Adrian Berntsen that claimed the TQ spot in front of his Xray team mate Helge Johannessen in 2nd while the 3rd starting spot would be taken by Eirik Andreassen. The SuperStock (19 turn) class saw the best starting field so far this year, and all racers were out to stop Kyosho racer Marcus Alvestad's winning streak, having won the last 2 rounds. Marcus however was still the man to beat in qualifying, taking the top spot in front of Petter Berntsen with Kai Ronning in 3rd.
Read the rest of the report here…
Modified Final 1
The top 3 were able to pull away and followed each other closely, but after the half way point Adrian Berntsen was taken out by a slower car and he got a DNF. After this Helge Johannessen could ease up and was secure his first win of the day followed by Eirik Andreassen 2nd and Truls "short cut" Solberg in 3rd.
Modified Final 2
Again the top 3 pulled way from the rest of the field but this final was to be a real close race. After 5 min of driving the difference was 0,9 sec from Helge Johannessen to Adrian Berntsen on 2nd after Adrian had lead most of this final. After a small incident Helge got in front and again Eirik Andreassen took the 3rd spot.
Modified Final 3
Like the other finals this was the same story up front, with the leading pack leaving the rest of the field behind. After 12 laps Adrian Berntsen got in trouble when his belt snapped on his Xray, this gave Helge Johannessen and Eirik Andreassen the chance for a fight. After 28 laps Helge Johannessen makes a small driving error and Eirik could pass by to take the win in this last final.
Modified results:
1. Helge Johannessen – Xray
2. Eirik Andreassen – Tamiya
3. Truls "short cut" Solberg – Tamiya
4. Roger Berntsen – Xray
5. Christer Antonsen – Hot Bodies
6. Adrian Berntsen – Xray
7. Oddbjorn Tromborg – Xray
8. John Lara – Associated
9. Goran Langsholt – Serpent
10. Kjell G Guttormsen – Tamiya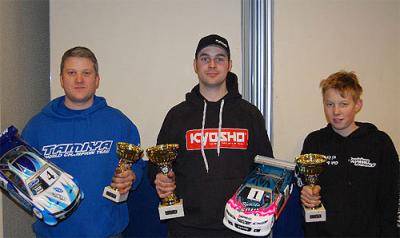 Superstock Final 1
After a start with a lot of crashes Petter Berntsen got a clean break, and managed to pull out a lead over Marcus Alvestad and managing to hold for the win. This left Marcus Alvestad in 2nd and Truls "short cut" Solberg on 3rd . It was these 3 drivers who were on pace to fight for the win.
Superstock Final 2
Now it was Marcus Alvestads time to be the dominant in this final, leaving the others behind. He took the win this final followed by Truls "short cut" Solberg and Lars A Andersen. Petter Bentsen had some problems with his belts snapping on his Xray and once more had a DNF in this final.
Superstock Final 3
Again it was Marcus Alvestad who got clean away after Petter Berntsen got a penalty for jump start. This probably cost him the overall victory, but as consolation it was Petter that set the fastest lap time of the day, with a 7,059 second lap on his way to 2nd, once more ahead of Truls "short cut" Solberg.
Superstock results:
1. Marcus Alvestad – Kyosho
2. Petter Berntsen – Xray
3. Truls "short cut" Solberg – Tamiya
4. Lars A Andersen – Xray
5. Knut Enger – Xray
6. Kjell Nilsen – Tamiya
7. Rune Nilsen – Xray
8. Kai Ronning – Tamiya?
9. Jarle Karlsen – Xray
10. Leif Tore Stensrud – Tamiya
Source: Modellbil [modellbil.net]
---