February 20, 2008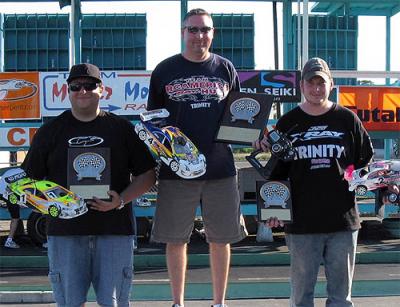 Xray team driver Paul LeMieux has a report from last weekends 1/10th 200mm race at the 2008 Winternats in Florida. Held on the very unforgiving Ft Myers track, the Xray team had a successful event despite Ralph Burch starting 2nd on the grid behind pole man Paolo Morganti for Serpent. In the end Burch managed to get ahead of Morganti and take the win by half a lap with Paul coming home in 3rd half a lap further back.
Things were now spread out a bit with Ralph and I running 1&2 but Paolo was not content with 3rd and made a hard charge and was reeling me in. Now with the race winding down the order was still Ralph followed by myself and Paolo running third. Paolo caught me with around 15min to go, he got into the back of me but waited for me to get back by him (very nice), but over the next few laps he made a nice pass on me to take back 2nd place. From there Ralph was on cruise control with a half lap lead over Paolo with 5min to go. Paolo pulled away from me by a few seconds.
Read the full report here.
Source: Xray [teamxray.com]
---