February 25, 2008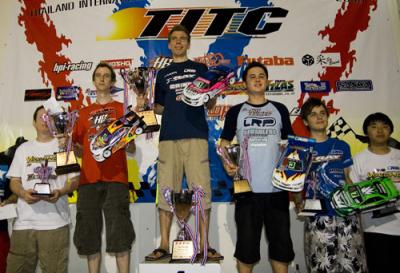 Seen as the warm up race for the World Championship held on the same track in November, this years running of the TITC in Thailand was very well attended by factory teams from around the World. Run on a tight smooth circuit under warm conditions, qualifying saw Xray racer Teemu Leino set down the fastest runs to take the top qualifier spot with 3 round wins in front of former World Champion Atsushi Hara in 2nd and current European Champion Ronald Volker in 3rd, both racing the Hot Bodies Cyclone. The finals were easy for Teemu, who could win the first 2 to claim the overall win with 1 final left to be run. With Teemu sitting out the 3rd run, this allowed Andy Moore to take the leg 3 win, which combined with his 2nd spot from leg 1 gave him 2nd overall in front of Ronald Volker in 3rd.
Click here for the final results…
Modified Class results:
1. Teemu Leino (Xray) – 20pts (10/10/1)
2. Andy Moore (Hot Bodies) – 19pts (8/9/10)
3. Ronald Voelker (Hot Bodies) – 16pts (2/8/8)
4. Alexander Hagberg (Xray) – 15pts (6/3/9)
5. Naoto Matukura (Yokomo) – 12pts (5/2/7)
6. Atsushi Hara (Hot Bodies) – 12pts (7/5/4)
7. Chris Grainger (Yokomo) – 12pts (4/6/6)
8. Viktor Wilck (Tamiya) – 11pts (9/1/2)
9. Marc Rheinard (Tamiya) – 10pts (1/7/3)
10. Masami Hirosaka (Yokomo) – 9pts (3/4/5)
View the event gallery here.
Source: TITC [titc.in.th]
---