March 24, 2008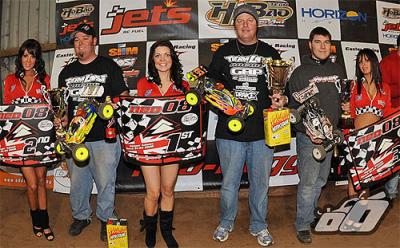 This bank holiday weekend in Europe has seen the running of the Neo08, the largest international indoor gas buggy event on this side of the Atlantic and today saw the finals run. After 3 days of practice and qualifying it was last years winner Adam Drake that was fastest in qualifying but it was Taylor James who lined up on pole for the main final. Our partners oOple have been covering the event and they had this report from the final.
Taylor James was on pole for the A main, but with an hour long final grid positions don't give much of an advantage. Taylor got into the lead and looked good followed by Adam Drake and Darren Bloomfield. A mistake from Taylor James saw Adam and Darren come through as Taylor dropped to third. Darren Bloomfield slowly gathered in Adam until he was right on his tail, but a mistake cost Darren some space in the race for first – and not long after a broken servo ended it for Darren. Meanwhile Lee Martin had a nightmare start with an engine cut on the start line followed by two more cuts. Coming into the pits too quickly Lee snapped the front of his RC8 and lost a serious ammount of time as his team got him going again. Joern Neuman looked good and was up to about 4th, but his car started to sound pretty terrible. Joern crawled round to the pits and Gerd Strenge had to replace the badly worn clutch which effectively put Joern out of the running. With Darrens challenge long gone, Mike Truhe now took up the chase on Adam Drake followed by Taylor James – Drake wasn't making any mistakes though and held his lead with a 30 second gap to Truhe by the 45 minute mark. Adam Drake held on to the end to win on 85 laps, with Mike Truhe second on 84 laps. Taylor James came in third on 83 laps.
Read the complete report from today along with great pictures here.
Source: oOple [oople.com]
---