March 12, 2008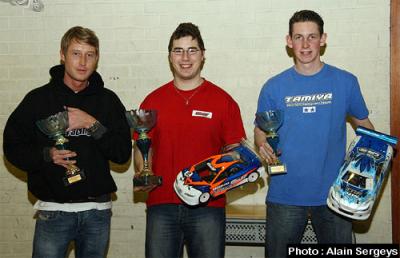 The first round of the Belgian 1/10th scale EP on road Nationals was run last weekend indoor in Charleroi. The event had 38 drivers in two classes, EFRA and 19 turn, and they were presented with a very fast but also technical track to contend with. After a tough battle in the EFRA class, it was Olivier Bultynck with his Corally Phi who took the win in front of Xray driver Benoit Thomaes in 2nd, while the 3rd spot went to Demsey Jacob driving a Tamiya 416. In the 19 turn class, it was again a Corally driver that was the overall winner, with Urbain Swijsen placing in front of runners up Rico Claeys and Thomas Stockman.
Click more for the final standings…
EFRA Class
1. Olivier Bultynck
2. Benoit Thomaes
3. Demsey Jacob
4. Manuel Henriet
5. Nick Joosens
6. Koen Joosens (TQ)
7. Gerrit Van Swijgenhoven
8. Nik Weyers
9. Patrick Jespers
10. Giovanni Martens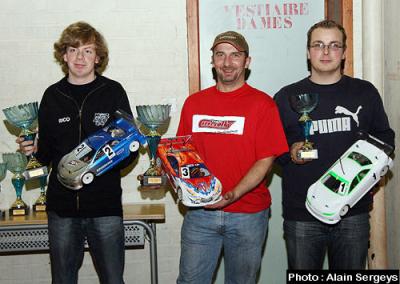 19 Turns
1. Urbain Swijsen
2. Rico Claeys
3. Thomas Stockman
4. Stephane Roufosse
5. Michel Mahieu
6. Andy Vandenborre
7. Bob Belmans
8. Glenn Willems
9. David Broze
10. Michel Friedman
Thanks to Krist Bultynck for the report.
Images: Alain Sergeys
---