March 5, 2008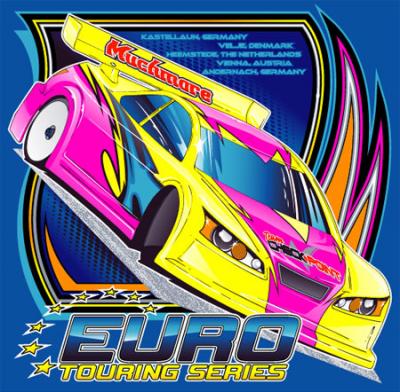 We promised to show you the artwork for the t-shirt that will be given away to all competitors at next weeks 2nd round of the Much More backed European Touring Series that takes place in Vejle, Denmark. And here it is, fresh from promoter Scotty Ernst, who had this to say:
The T shirt design turned out better than we could have hoped for. Dusty Kemp the designer did a great job of bringing an exciting and colourful design to these event shirts and we're sure everyone will really enjoy them. Each racer attending the event next weekend will get a free shirt included with their race entry, just another great benefit for participating in the Euro Touring Series.
Do you want to race against some of the World's top touring car racers, while being commentated on by the legendary Scotty Ernst, in a fun and friendly, yet professional racing atmosphere then be sure to get your entry in for round 2 of the ETS by going here.
---