March 15, 2008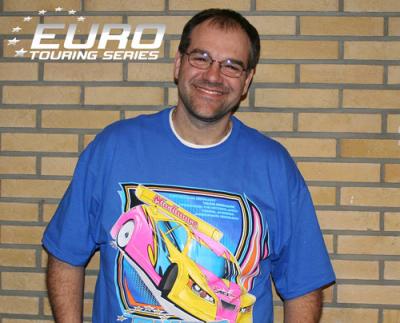 We are here at the 2nd round the Much More backed European Touring Seres that takes place this weekend in Vejle, Denmark and during a break in preperations we managed to sit down with one of the ETS organisers Scotty Ernst to talk about this exciting new series.
Read the full interview here…

Red RC – Your probably best known as the man behind the great IIC event in Vegas but now you are promoting a new series in Europe called the European Touring Series. Can you tell us more about the ETS?
Scotty – The ETS is an exciting new series that I am working on with Uwe Rheinard who is a well known face in European racing because of his two sons Marc and Toni. The idea for the series came about last year when I was commentating at a race in Europe where myself and Uwe discussed the concept of a series of friendship races.
Red RC – You are a very handy man at the controls of an r/c car so how did you end up going from top racer to top race promoter?
Scotty – After years of announcing races at my own race track, Trackside Hobbies, I learned to really enjoy announcing races, as well as orgainising them and after attending a number of races around the US, I felt that they could be organised better and done with more detail. My first event away from my home track was the IIC in 2005 and its basically snowballed from there.
Red RC – This weekend you are in Denmark for Round 2 of the European Touring Series. Any predictions for this race?
Scotty – I'm confident everyone will walk away from this event having had a memorable experience racing with us. Rene Hovgaard and his team have done a perfect job assembling a top class venue that we are privelaged to bring the Much More backed ETS to. Regarding the serious stuff its obviously a tough one to call, I have to say Viktor Wilck is riding the highest of the drivers who are here with his win at the DHI Cup earlier this year and a strong showing at the TITC in Thailand 2 weeks ago.
Red RC – In addition to Denmark, the series will also visit the Netherlands, Austria and Germany. What made you choose these particular countries?
Scotty – The first year we wanted to run at venues which had the organisation and infrastructure to allow us to showcase what our series is about and give the ability to reach as many racers in as many different countries as possible.
Red RC – Do you have any plans to expand the series in the future and what other countries you would like to see added to the ETS schedule?
Scotty – We definitely want to move the series to eventually cover every area of Europe. The one place I really want to bring an event to is the UK, we had hoped to do it this year, but for logistical reasons we couldn't. With Andy Moore, the current World Champion being from the UK, and the country having such a good following of touring cars, it will be great to have an event there.
Red RC – We have heard rumours that there are certain members of the industry opposed to the ETS. Surely a professionally run and well promoted series like the ETS is a good thing for our sport?
Scotty – I've also heard of people in the industry objecting to our series and unbelieveably working to try to cause our series to fail. This is quite dissapointing for me that people could be so short sighted when all we want our series to do is to raise the profile of our sport and thus encourage more participation. Its only a minority of people that have this view so our plans continue unaffected.
Red RC – As the International 'Voice of RC Racing' you travel around the world bringing your legendary commentary to races. Got any interesting plans for all those air miles you've clocked up?
Scotty – I use them to go on vacation with my family and also to take my eldest daughter Sarah, who also races, to events around the US.
Red RC – Finally if you had the power to change one single thing about our sport what would it be?
Scotty – That as we get older and we can still race against the young guys. But seriously I wish there was some way we could expose this awesome hobby to the masses of the World to make this hobby grow larger than any of us could fathom.
---