April 20, 2008
New from HPI Racing is the company's Flux Brushless system designed to deliver the extreme power and efficiency that brushless technology offers. Blazing power comes from the Flux Warp brushless motor, precisely controlled by the Flux Motiv electronic speed control. Add your choice of batteries from NiMh to Li-Po for a brushless system that is clean, quiet, powerful and truly plug-and-play.
Click more for the full feature list…
Flux Motiv Brushless ESC Features:
– 6-8 cell NiMH / NiCd or 2 Cell Lithium Polymer (with 5700Kv Motor)
– 6-12 cell NiMH / NiCd or 2-3 Cell Lithium Polymer (with 4600Kv and below Motor)
– 70A* Continuous / 380A burst current
– Ultra low resistance (.0007 ohms / phase)
– Sensorless technology eliminates additional sensor wiring and complexity
– Lithium Compatible**. Programmable Lithium under-voltage cutoff protects delicate Lithium packs from over-discharge
*25C temperature, 5mph air flow through heat sink minimum. Burst current: < 2 seconds duration, 1% Duty cycle
**ESC must be programmed for Lithium cutoff when using Lithium batteries.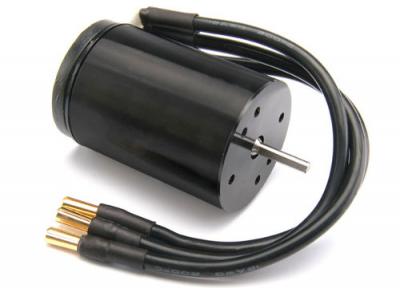 Flux Warp 5700Kv Brushless Motor Features:
– Oversized precision sealed bearings
– 2.3mm 1/8″ Hardened Steel Shaft
– Slotless stator design delivers smooth, linear torque
– Triple insulated windings for long life
Source: HPI Racing [hpiracing.com]
---