April 28, 2008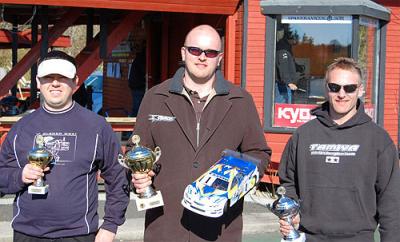 The Norwegian EP Touring car Nationals got under way last weekend at Farsund rc club's track in the South of Norway. In qualifying it was Xray driver Helge Johannessen that took the pole position in front of Tamiya racer Eirik Andreassen in 2nd and Hot Bodies driver Tommy Svaasand in 3rd. In the finals it was a battle between Helge Johannesen and Eirik Adreassen, who were in a leauge of their own, leaving the rest behind to battle for the lower places. In the end if was Helge Johannessen that took the win from 2nd placed Eirik Andreassen, with Tommy Svaasand claiming 3rd overall.
Click more for the final standings…
Final Round 1 results
1. Helge Johannessen – Xray T2'008
2. Eirik Andreassen – Tamiya TRF416
3. Tommy Svaasand – HB Cyclone
4. Stig O Alstad – TOP Scythe
5. Robin Simonsen – Xray T2'008
6. Goran Langsholt – Serpent S400
7. John Lara – Tamiya TRF416
8. Ivar Johansen – Xray
9. Alf Skaar – Serpent S400
10. Jon-Age Olsen – Corally
View the complete report with more pics here.
Source: Modellbil [modellbil.net]
---