April 17, 2008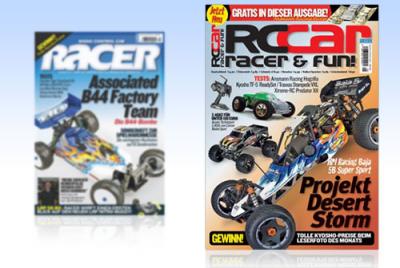 With the first issue of the newly updated magazine going on sale, we were asked to remind everyone that RC Car Racer, one of the most popular R/C Car magazines in Germany and one of our print partners, has evolved into the all-new RC Car Racer & Fun.
As most of you might know RC Car Racer is the most popular RC Car magazine in the UK and since February 2005 it has had a German "sister magazine" for the German language market in Europe. Being in its fourth year now the publishers of RC Car Racer thought that it might be the right time for a slight tweak in the name of RC Car Racer in Germany and becomes the all-new RC Car Racer & Fun. With this re-branding ADH Publishing hope that the new look cover will appeal to many more readers who perhaps had previously thought that Racer was just about racing. The format will be changed for Germany and will have even higher quality paper, larger print and features aimed at all levels of Radio Control Car interests ranging from entry level to high competition cars as well as nitro and electric rides. It is planned that each and every issue we will have a cover mounted gift like sticker sheets or DVD's for an even higher value for the reader. RC Car Racer & Fun is available at all good modelshops, railway stations and highstreet newsstands.
For more information about RC Car Racer and RC Car Racer & Fun please go here.
---