April 9, 2008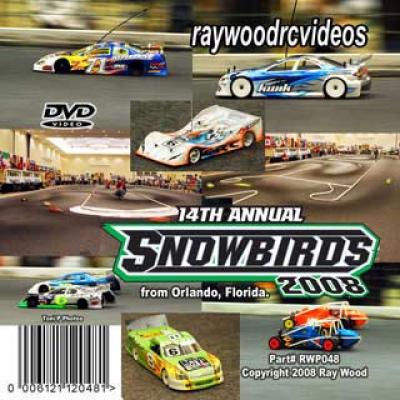 Ray Wood has announced the release of his DVD from the 2008 Snowbirds that was run at the beginning of February in Orlando, Florida.
"Snowbirds 2008" Official DVD is over 100 minutes of awesome carpet racing, both circuit & oval. This the biggest event in the world with around 700 entries for 12th scale circuit, 10th touring cars plus after a change in the track layout, 12th & 10th oval sedan racing, Nascar trucks, & sprint cars. The Snowbirds is held in the Radison Hotel Ballroom in Orlando, Florida, runs 20 hours a day and is just non stop action. If you are not familiar with carpet oval racing, this will blow you away. The racing is fast & tight and the crashes at these huge speeds are spectacular.
Go to Ray Wood's website here and check out the preview.
Source: Ray Wood [raywoodrcvideos.com]
---