April 27, 2008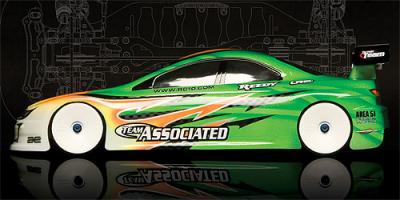 Based on the successful Factory Team TC5, Team Associated have released the TC5F, an electric touring car chassis that has been optimized for high traction, foam tire racing. The TC5F starts with a full ball bearing, dual belt-drive system that transfers all the power from the motor smoothly and efficiently. With today's motors and batteries delivering more power than ever before, the belt-drive system gives the TC5F a very predictable throttle response and feel, making it easier to drive fast and carry more speed through the corners. The blue aluminum ball differentials are super light for reduced rotational mass. Reducing the weight of the diffs lets the TC5F accelerate harder out of the corners. Hardenedsteel CVAs with cross-pin retaining clips and blue aluminum clamping wheel hexes offer reliable service getting all the power to the wheels.
Click here for more information…
The TC5F has a fully adjustable and durable 'hard' composite suspension package. The rugged A-arms pivot on 3mm inner hinge pins and 2.5mm outer hinge pins, making it easier than ever to drive away from some of the most severe mishaps. Fully adjustable roll-centers and hinge-pin angles (anti & pro-squat) help you squeeze every last ounce of handling potential out of the TC5F. The steering is handled by a mono-bellcrank with adjustable Ackermann for more precision and less free play. Front and rear anti-roll bars are included.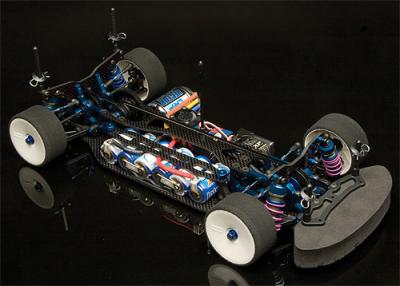 The VCS2 shock package is included and features hard anodized threaded shock bodies and are very quick and easy to rebuild thanks to the silicone shock bladders. Weight-bias is a very important part of tuning any race car and to accommodate this, the stiff 3mm carbon fiber shock towers are indexed with center-holes designed for balancing the TC5F side-to-side. The TC5F has a 2.5mm carbon fiber chassis and top plate, and when combined with the blue aluminum bulkheads makes for a very rigid chassis assembly. This chassis rigidity gives the TC5F a broad sweet-spot making it easier than ever to get dialed in for high-grip carpet racing or for low-traction parking lot racing and all the conditions in between. Demands and expectations of race level touring cars have never before been higher. The Factory Team TC5F ot only meets those demands and expectations but surpasses them with the best touring car made by Team Associated to date. The Factory Team TC5F is truly a champion by design.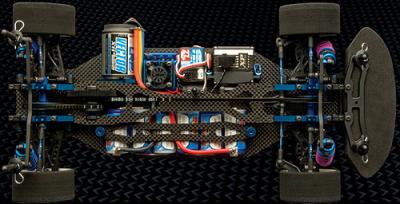 Factory Team TC5F Features:
– Belt drive with adjustable differential heights and belt ension
– Blue aluminum outdrives
– Hardened steel CVAs with cross-pin retaining clips
– Blue aluminum clamping wheel hexes
– 20 Precision ball-bearings
– Blue aluminum bulkheads and motor-mount
– Woven carbon fiber battery strap included
– Rigid 2.5mm woven carbon fiber chassis and top plate
– "Hard" suspension rears, 6° caster blocks and 1° rear hubs
– Front & rear anti-roll bars included
– VCS2 shock package
– Titanium turnbuckles
– Genuine Kimbrough 48 pitch spur-gear included
– 3mm inner hinge-pins and 2.5mm outer hinge pins
– Adjustable roll-centers hinge-pin angle
– Vertical ball studs
– 3mm woven carbon fiber shock towers
– Mono-bellcrank steering with adjustable servo-saver
– Indexed balancing holes
Source: Associated [rc10.com]
---