May 10, 2008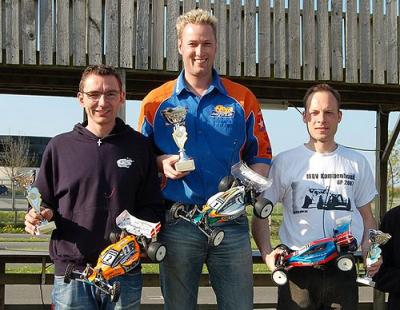 The 1st round of the 2008 Danish Off-Road DRCMU championship was run last weekend by the Odense RC Minirace Club, who have put new carpet on the track providing lots of grip, while a new double jump was build for this event.
Read the full report…
In 2WD class, former European Touring Car Champion Jonas Kaerup was present as a guest driver, and he has not forgotten his roots from his early days of off-road driving. Jonas took TQ in front of Lars Alex and last year 2WD champion Christer Rasmussen. Jonas carried forward this pace into the finals by winning the 1st and 3rd A-final, with Lars Alex managing to win the 2nd final with a very small gap to Jonas.
2WD Top 3
1. Jonas Kaerup – B4
2. Lars Alex – B4
3. Christer Rasmussen – B4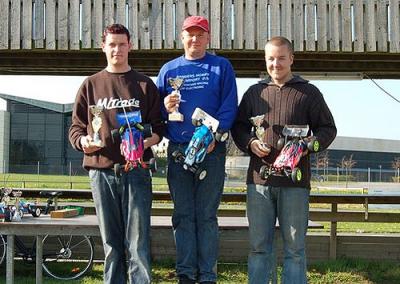 In the 4WD class it was again battle between last year 4WD champion Ulrich Rasmussen and Losi driver Kim Nielsen. Ulrich put some very fast times in round 2 and 3 of qualify and was the only driver that managed to make 17 laps on the twisty track. Kim Nielsen was able to put a hard pressure on Ulrich in the first A-final, but Kim made a few errors and dropped back and so Ulrich could pass him and keep the lead until finish line. Ulrich kept up this pace in the 2nd and 3rd final to win overall ahead of Kim Nielsen and Jan Larsen.
4WD Top 3
1. Ulrich Rasmussen – Kyosho
2. Kim Nielsen – Losi
3. Jan Larsen – BJ4
In the Stock class it was 9 year old local racer Jesper Rasmussen that was fastest with his LRP Stock Spec brushless powered Kyosho car. He managed to make the fastest times in Rd2 and 3 of qualifying and could put his car on pole position, just ahead of Martin Kristensen with his BJ4 and youngster Sebastian Sorensen in third spot with his Tamiya 501X. In first final the 8 year old Sebastian took the lead from start, when Martin hit Jespers car in first corner. Jesper could overtake Sebastian in the last minute to win the first final and the young driver could take victory in the remaining 2 finals to win overall.
Stock Top 3
1. Jesper Rasmussen – Kyosho
2. Martin Kristensen – BJ4
3. Sebastian Sorensen – Tamiya
Round 2 will be held at the Ti-Mo club near the Danish/German border.
Source: Race Gallery [racegallery.dk]
---