May 28, 2008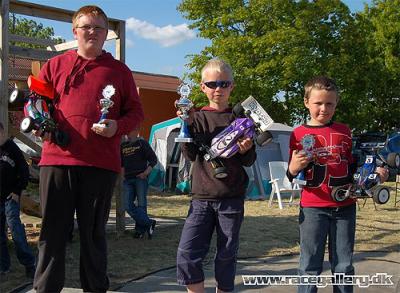 We received a report from the 2nd round of the 2008 Danish Off-Road DRCMU championship that was run last weekend on the outdoor carpet track in Tinglev. In the Stock class it was again Jesper Rasmussen that was in the fast lane with his Kyosho, followed up by Martin Kristensen driving a JConcept BJ4 in 2nd, and the young Tamiya driver Sebastian Sorensen in 3rd spot after 3 rounds of qualifying.
Continue reading…
Jesper and Martin made a good show in the first A-final with some close racing, with Martin managing to make a gap to Jesper in the early part of the final, but Jesper was able put some very fast laps and could catch Martin and so they passed the finish line together with Jesper winning this final by 0.01 second from Martin. In A-final 2 Jesper made a start to finish victory and was overall winner, Martin put his BJ4 into second spot followed by Sebastian who had a retirement in round 1. A-final 3 and it was Martin the fastest with Jesper Rasmussen and Sebastian Sorensen in the following places.
Stock A-final overall result
1. Jesper Rasmussen – Kyosho ZX5
2. Martin Kristensen – JConcepts BJ4
3. Sebastian Sørensen – Tamiya 501X
4. Glen Jørgensen – Associated B4
5. Tobias Hansen – Associated B4
6. Claus Breiner – Kyosho ZX5
7. William Jørgensen – Associated B4
8. Monique Williams – JConcepts BJ4
Again there was a Touring Car driver visiting the 2WD class, and in this race was it former 19T stock driver Rasmus Callesen competing with an Associated B4. Rasmus is member of the local club and had been practicing for a while before the race, and it seems to Rasmus was very fast and have found a good set up for his car. Last years champion Christer Rasmussen could put his GM powered B4 into 2nd spot after qualifying, just behind Rasmus Callesen, while Lars Alex was in 3rd position. Callesen carried his qualifying pace into the finals and was able to win both final 1 and 2 to take the overall win, while not surprising was that Christer pushed him very hard in the finals trying to pass Rasmus, only managing it in the 3rd leg.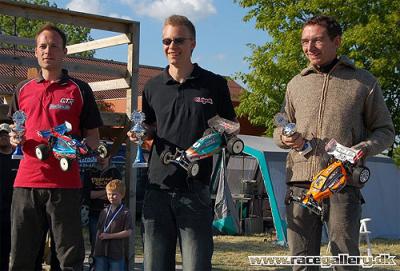 2WD overall result
1. Rasmus Callesen – Associated B4
2. Christer Rasmussen – Associated B4
3. Lars Alex – Associated B4
4. Casper Rasmussen – Associated B4
5. Lars Kristensen – Associated B4
6. Torben Nielsen – Associated B4
7. John Madsen – Associated B4
8. Jan Larsen – Associated B4
In the 4WD class it was Losi driver Kim Nielsen who was the fastest ahead of Christer Rasmussen with his B44, and they were both closely followed by Ulrich Rasmussen driving a Kyosho. Kim could put his Losi into pole position ahead of Christer and Ulrich. In A-final 1 was Kim very unlucky when a driveshaft and front belt broke just after the start, and this allowed Christer into the lead but he was pushed hard by Ulrich who could eventually overtake him and win the first leg. In A-final 2 Kim was again fit for a fight and made a "start-to-finish" win followed up by Ulrich Rasmussen and Jan Larsen driving a BJ4. In the third final it was again Kim Nielsen with the win followed up by Christer and Ulrich Rasmussen.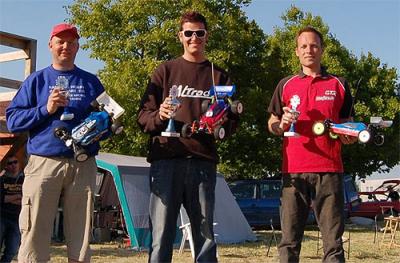 Overall 4WD result
1. Kim Nielsen – Losi XX4WE
2. Ulrich Rasmussen – Kyosho ZX5
3. Christer Rasmussen – Associated B44
4. Jan Larsen – JConcepts BJ4
5. Konrad Berger – JConcepts BJ4
6. Tommy Jensen – Kyosho ZX5
7. Torben Nielsen – Kyosho ZX5
8. Jørn Henrik Sørensen – Tamiya 501X
Source: Race Gallery [racegallery.dk]
---