May 26, 2008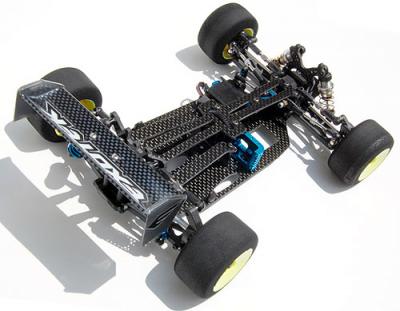 Exotek Racing continue to make their very impressive conversion kits and have released the TEK-18X, a conversion for the popular RC18 from Team Associated. This chassis conversion takes a no holds barred approach to transform the RC18 platform into a true performer and has already had success, winning the 2008 1/18th Off Road US Nationals in 4WD Modified. Amongst the new features, the car has an extra long wheelbase for better stability, rear biased battery mounting for better rough track handling and is super lightweight, thanks to the extensive use of carbon fibre throughout.
Click here for full feature list and more pictures…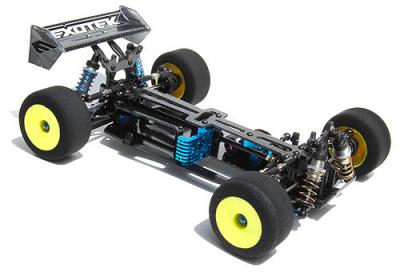 Features:
– New extra long wheel base for superior stability- 165mm long!
– Rear biased battery mounting. Shifts the battery weight to the rear of the chassis for better rough track handling. Nylon battery posts and carbon fibre straps included. New longer battery area accepts batteries up to 53x32mm on each side.
– 1.8mm USA made quasi weave carbon fibre bottom plate, top plate and battery straps. New thinner style for tuned flex to help with stability.
– Re-engineered alloy/carbon fibre bearing supported mono bell crank steering for precise control. New optimized steering rack and new smoother swivel links.
– Accepts the stock size servo perfectly but designed to work with the 2 best servos on the market- the superb digital Airtronics 94091 or the slightly larger more durable digital Airtronics 94761 (optional servo mount required). New flipped servo mounting for better steering link angle.
– 1 piece carbon top plate keyed to alloy diff covers for tweak resistant operation. New thinner style for tuned flex to help with stability.
– Easy 1 screw (from the top- no dirt clogging) motor mount removal and pinion/spur gear mesh.
– Lowered motor mounting for lower CG and vented and contoured heat fins for optimized motor venting.
– Carbon fibre drive shaft for excellent acceleration and reliable drive line performance. New higher strength material.
– New lightweight nylon diff covers and front kick up plate.
– New- includes nylon antenna mount and nylon battery holders.
– Alloy steel hex hardware included to install the conversion.
– Available in blue or gun metal.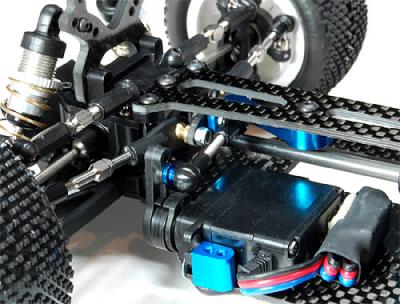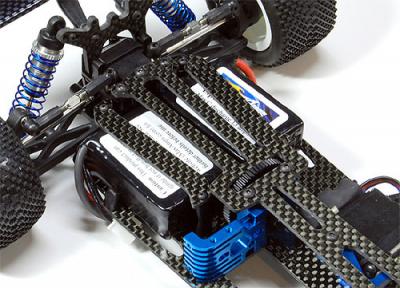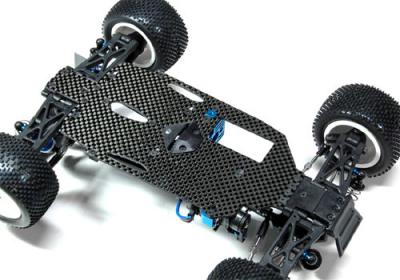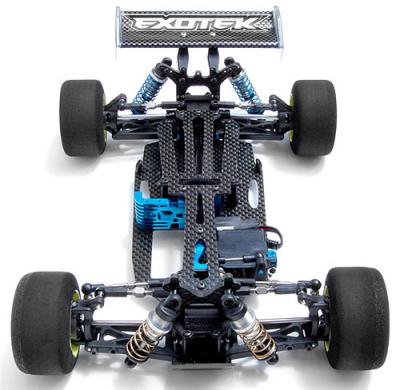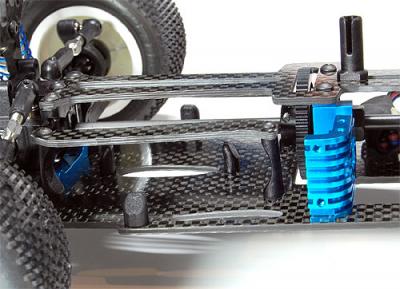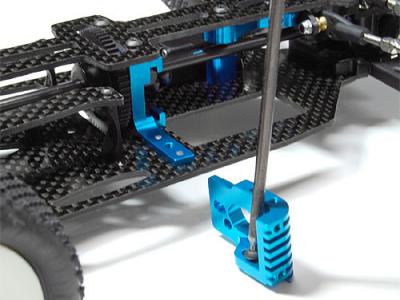 Source: Exotek [exotekracing.com]
---