May 15, 2008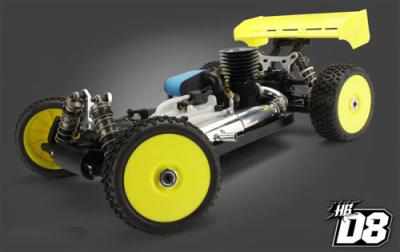 Hot Bodies have released further information, along with prototype pictures of their all new D8 1/8th scale buggy. "HB continues our 1/8th scale racing tradition with our brand new buggy, the HB D8! The D8 platform was designed entirely in the USA from the ground up with rigorous competition in mind. Vigorous testing by our team of World Class Drivers has proven that the D8 will not only be the fastest car on the track, but the most forgiving as well, capable of excelling in the hands of both novice and factory pilots. If you're a serious racer with plans to be in the winner's circle you'll want to grab yourself a D8, because once they hit the track, you'll need one to get there."
Click more for the full feature list…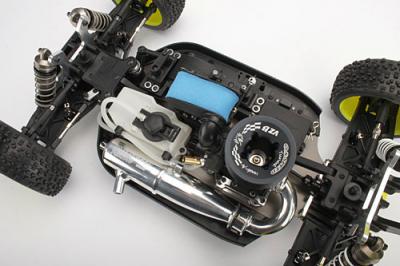 New suspension and chassis design
Optimized Suspension Geometry to attack the rigors of the new age 1/8th scale tracks. Centralized Weight Distribution provides superb balance with increased transitional agility.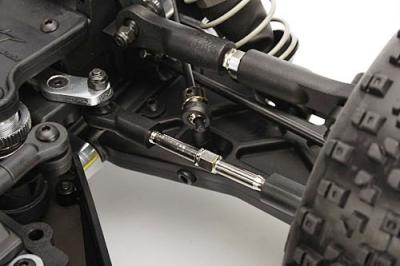 HB Certified Body
Intimidate the competition with a sleek, no nonsense body that is sure to turn heads.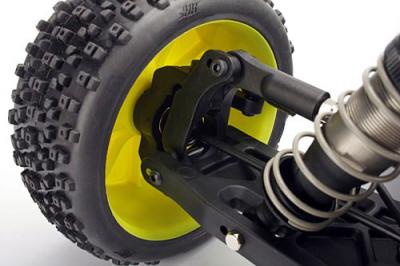 Jumbo Sized Wheels
Grab a larger piece of turf with the D8's Maxed out wheel dimensions. The largest wheels allowed under ROAR rules, these puppies will put more of your tread on the ground so you can put more of your rivals behind you.
Colossal 16mm Big Bore Shocks
The Super-sized shock package is the largest in its class allowing the D8 to recover from the roughest of landings. Whether you're making a big-air jump pass in the main or taking a flying leap over a building the D8's 16mm Big Bore's will allow you to jump, and land with confidence.
4mm chassis
The staunch 4mm 7075 Aluminum chassis is designed to withstand any barrage of obstacles on today's mammoth outdoor tracks. 10 degrees of kick up compliments the suspension package to get the D8 across the finish line ahead of everyone else.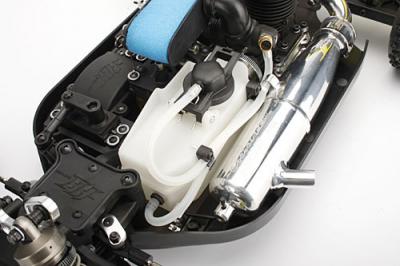 New fuel tank with proven HPI Baja 5B clunk design
Utilizing 1/5th scale technology the D8 implements a new clunk design which will use every drop of fuel whether you're racing to the line, or upside down waiting for a marshal.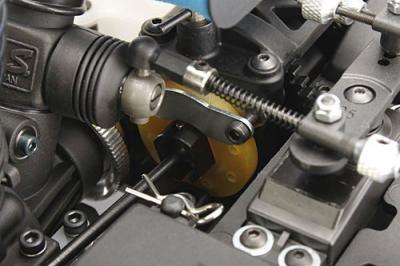 One piece radio tray
The one piece tray allows for easy maintenance as it can be removed in one section when you need to clean the dirt off your ride.
One piece engine mounts
A rock solid single piece mount makes removal and installation of your engine as easy as removing 4 screws. The one piece design allows you to set the gear mesh once and not worry about adjustments during maintenance.
Low profile air filter
The new slammed look of the filter not only looks pro, but provides a larger surface area for your engine to breath through.
Captured Hinge Pins
Throw away those pesky E-clips and revel in the D8's captured hinge-pin design. Each pin is secured using button head screws, giving you the ultimate in durability and ease of maintenance.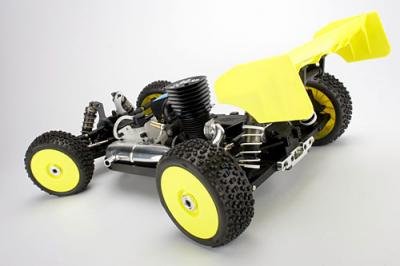 4.3:1 internal gear ratio
5x11mm clutch bearings
Dimensions:
Chassis Length (from Bumper to rear wing end) no tire: 500mm
Width: 305mm
Wheelbase: 328-331mm
Kit Weight: 3.5kg (7.7lbs) with racing gear
Drive System: 4WD Shaft System
View a video with the cars designer, Josh Alton, here.
Source: Hot Bodies [hotbodiesonline.com]
---