May 19, 2008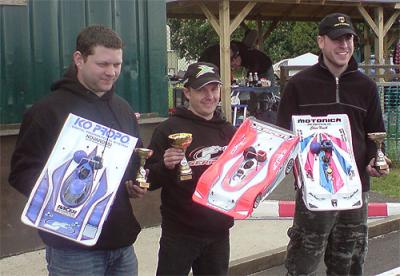 We received a brief report from the 3rd round of the BRCA 1/8th scale Nationals, held yesterday at the Cotswolds track. Qualifying saw the first round TQ'd by Tim Wood by 4 seconds from Serpent team mates Richard Hicklin and Neil Diver with Mugen racer Andy North in 4th. Round 2, and Richard was flying and was about to TQ when he came into contact with Chris Heath's Montonica, this left Tim still on pole from Andy North who was now only 1/2 second behind. Round 3 and it was Richard Hicklin that took TQ by 4 seconds over Andy North, with the only 20 Lap run of the day as Round 4 turned out to be slower for everyone.
Continue reading…
The final was going to be a tight affair but at the start Richard Hicklin converted his qualifying pace into an 1/2 lap lead over Neil Diver and Andy North. Neil made a mistake and Andy North was comfortably into 2nd place, keeping the gap to Richard consistant to 3/4 of lap, until a blown plug cost a certain podium position. Chris Heath was circulating quickly and with his Sirio engine doing an incredible 6 1/2 minutes on fuel, would mean that he would come back into contention by the end. Despite Richard having a minor brake problem, he held onto the win with Chris claiming 2nd and Neil Diver 3rd. Chris now leads the Championship after 3 rounds, with 6 rounds still remaining.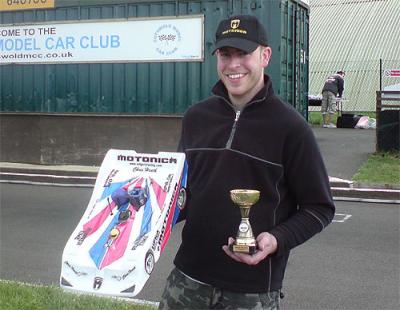 Results:
1. Richard Hicklin – Serpent/Mega DS2
2. Chris Heath – Montonica/Sirio STI
3. Neil Diver – Serpent/Novarossi 359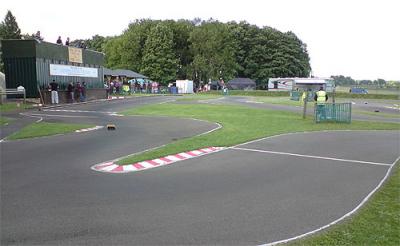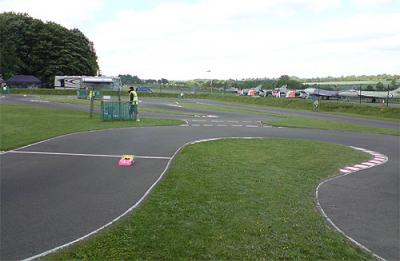 Thanks for Andy North for the report and pictures.
---