May 12, 2008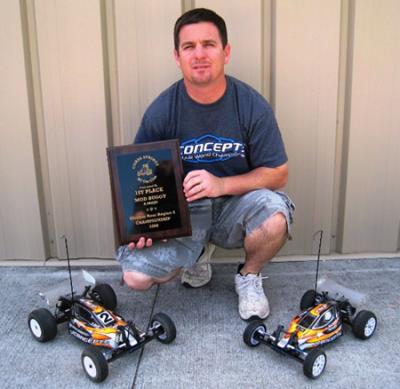 We received a report from Paul Wynn on this year's ROAR Region 4 Championship that was hosted by the Coral Springs R/C Car Club. This is one of the premier tracks/clubs in the state of Florida and they put on a fantastic show. There were 94 entries between the 5 classes.
Click more to read the rest of the report…
Friday –
After a long road trip Andrew and I finally arrived Friday afternoon. The track was well prepped and many racers were taking full advantage of the open practice. We quickly setup camp and made our way onto the track. There didn't appear to be any groove on the track so we weren't expecting very much traction, but to our surprise the Double-Dees provided instant wheelies. The track conditions proved to be outstanding; Andrew and I both agreed it was the best surface either of us has ever experienced.
After several runs on the track we felt very confident going into qualifying with our RC10B4; both equipped with JConcepts Double-Dee rear tires and Groovy fronts. With the exceptional track conditions we decided this would be a perfect opportunity to test the newest JConcepts tire soon to be released; the Bar-Codes in blue compound. The Bar-Codes were simply amazing on the extremely hard/high-bite clay surface providing ultimate stability and unmatched corner speed. With practice and our unexpected test session finished we decided to call it a day.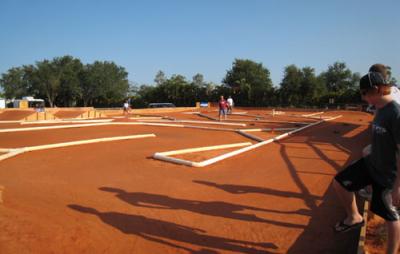 Saturday –
Saturday morning began with perfect weather and a quick stop by Chick-fil-A on the way to the track (chicken minis are awesome). First thing we noticed upon arrival was the CSRCCC crew did an outstanding job preparing the track for qualifying and traction was at an all time high.
The first round went very well as I TQ'd both 2wd modified buggy and modified J82; both equipped with Double-Dee rears and Groovy fronts. The track was extremely fast in the second round, but after many mistakes I lost TQ to my teammate Trey Cook. Trey also running Double-Dee rears and Groovy fronts was looking very strong. I finished up the third and final round of the day by regaining the TQ spot.
We called it a day and went out to dinner with friends.
Sunday –
Perfect weather Sunday morning, but no Chick-fil-A! So we settled for Dunkin Doughnuts where Andrew decided to get some type of crazy Latte in a big-gulp cup (wired).
Once at the track, I decided not to practice and just relax. I figured the track would be a little slower for the final round and made the decision to rerun my tires from Saturday. This proved to be very risky as the stock class blazed the track and set new fast times. Feeling a little nervous about my decision, I stuck to my guns and drove a great race setting a new TQ.
Not taking any risk, I bolted on some fresh Double-Dees for the A-main. With teammate Trey Cook starting in the second position I felt very confident in a clean start. This proved to be true and allowed me to cruise to an easy win. Trey unfortunately traction rolled on the third lap, but worked his way back to a great third place finished.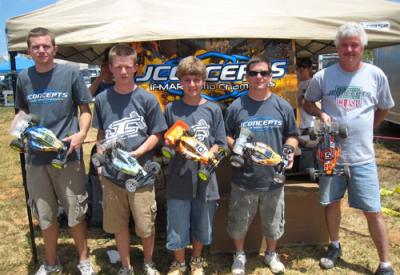 JConcepts had a great showing with 6 out of the top 10 running Double-Dee rears and Groovy fronts.
Andrew and I cruised to an easy 1, 2 finish in the all new J82 class.
Special note: The BJ4WE still proved its race proven design by taking the TQ spot and fastest run of the weekend. Congrats to Allan Abess and his BJ4WE!
Congratulations to all the winners!
Special thanks to Tim Moon, John Argentino, and the entire CSRCCC crew. This was the best off-road track I've experienced in 20+ years!
---