May 20, 2008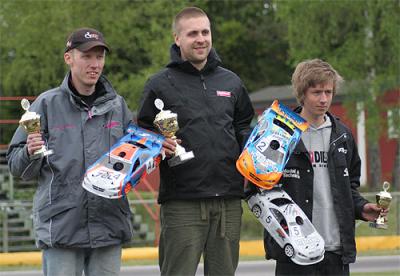 The 2nd round of the Swedish Cup for Nitro track racing took place last weekend at the Växjö track in in the south east of Sweden. Saturday's practice was run in nice weather and in the 1/8th scale class it was young Kyosho driver Niklas Johansson who TQ'd ahead of Mugen racer Mikael Fransson with Marcus Lindner in 3rd for Kyosho. In the 1/10 scale class it was Kyosho drivers Alexander Andersson and Roland Ström that took the two first qualifying places followed by Serpent driver Tommy Bergfeldt. All the finals were held on Sunday and despite it being dry, it was rather cold, around 6 degrees. The 1/8th final was an exciting race with the drivers opting for different strategies due to fuel consumption and tire changes. In the end Mikael Fransson took the win followed by Marcus Lindner, running very close to the track lap record, with 3rd spot going to Serpent driver Christoffer Hallborg. In the 1/10th scale final the drama begun on the starting grid as top qualifier Alexander Andersson had his gearbox come loose. This made it easy for Roland Ström, who drove a controlled and stable race to the chequered flag, claiming the win in front of Serpent racer Per-Ola Hård, while 3rd spot went to young driver Edwin Sunesson racing a Kyosho.
Click more to see the 1/8th scale podium…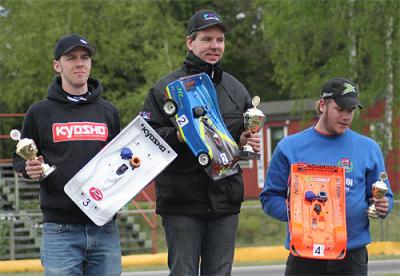 Thanks to Wolfgang Lindner for the report and photos.
---