May 7, 2008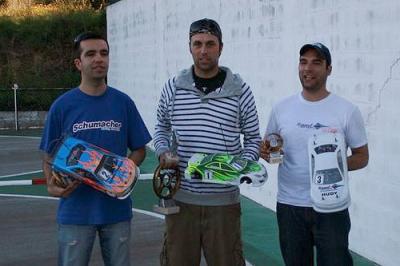 Last weekend saw the 3rd round of the Portuguese 1/10th EP Touring car Nationals take place at the Tomar track. This small and tight track provided a challenge for everyone and it was guest driver Toni Rheinard who won the Modified class finishing in front of Xray driver Nuno Gancho in 2nd, while the 3rd spot went to Ruben Francisco driving a Schumacher. The stock class saw Joao Miguel win with his Schumacher ahead of Xray driver Pedro Pita in 2nd and Corally racer Nuno Carrico in 3rd.
Click here to see the final results…
Modified results
1. Toni Rheinard (Hot Bodies Cyclone)
2. Nuno Gancho (Xray)
3. Ruben Francisco (Schumacher Mi3)
4. Daniel Ferreira (Serpent)
5. Fernando Cordeiro (Schumacher Mi3)
6. Joao B. Inacio (Xray)
7. Jorge Simues (Hot Bodies Cyclone)
8. Luis Fidalgo (Xray)
9. Miguel Braga (Corally RDX)
10. Pedro Pinto (Hot Bodies Cyclone)
Stock results
1. Joao M. Martinho (Schumacher Mi3)
2. Pedro Pita (Xray)
3. Nuno Carrico (Corally RDX Phi)
4. Bernardo Cosme (Schumacher)
5. Fernando Domingos (Xray)
6. Carlos Miranda (Corally RDX Phi)
7. Goncalo Alves (Robitronic)
8. Paulo Martinho (Losi JRXS)
9. Jose Aleixo (Corally RDX Phi)
10. Antonio B. Silva (Xray)
A full gallery of images from the event can be seen here.
Source: Info RC [info-rc.net]
---