May 7, 2008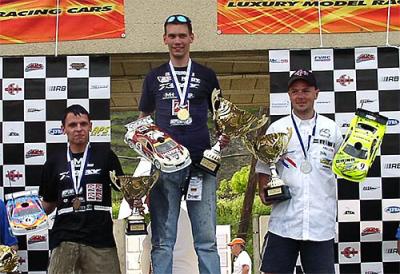 The European 'B' Championships for 1/10th scale 200mm took place last week at the beautiful Ampuis track in France. After some rain in the practice days, qualifying got underway and it was French racer Michael Derderian, driving a Serpent, that claimed pole position from Italian Team Magic racer Mario Spiniello in 2nd followed by the Xray pairing of Thomas Eytard and Guido Barbera. The start of the main final saw Mario Spinello jump straight into the lead, but dropped back after some issues. Thomas Eyard was fastest in the final and set a new track record, but after serious interference problems his chances for the title disappeared, while around the same time that Xray driver Dirk Wischnewski was hit by another car, losing him 1 lap on the leader. Having opted to not change tires in the final, Dirk managed to work his way to the front of the field, where he could extend his lead to 1 lap, taking the victory in front of Bougnoteau in 2nd place, and Thomas Eytard in 3rd spot.
Click more for the final results…
Final Standings
1. Wischnewski Dirk – Germany
2. Bougnoteau Nicolas – France
3. Günsel Thomas – Germany
4. Pelaez Victor – Spain
5. Derderian Michael – France
6. Barbera Guido – Italy
7. Giacalone Dino – Italy
8. Spiniello Mario – Italy
9. Defie Joffrey – France
10. Eytard Thomas – France
Go to the Xray site for the full race report.
Source: Xray [teamxray.com]
---