June 23, 2008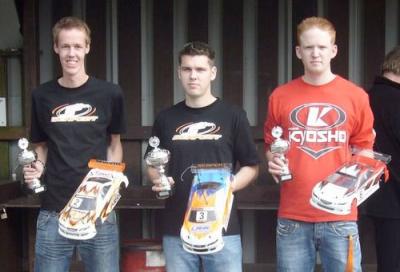 The 3rd round of the Dutch Electric Touring car National Championship was held this weekend at the small and technical Gouda track in the centre of the country. The weather behaved and the racers had dry, but windy, conditions to contend with. The qualifications saw Xray racer Hugo vd Berg on the top of the time sheets, just ahead of Serpent racers Rob Janssen and round 2 winner Bart Wubben. In the 2 leg final, the first leg saw some mistakes from Hugo, which left Bart to open a gap up front followed by Tamiya driver Arjen Potharst. In his recovery driver Hugo managed to get back to 2nd, however making contact with Arjen and Rob on the way which dropped Arjen to 8th and Rob back behind a fast Stefan Jansen. Bart took the win from Hugo, with Stefan in 3rd followed closely by Rob. In the 2nd leg Rob made a good start and could get passed Hugo who was then hit by another car, taking him out of the race. Bart was close behind Rob and with some team play at work, he let his quicker team mate through and thats how they finished with Bart Wubben taking the overall win from Rob Janssen in 2nd and Kyosho racer Stefan Jansen 3rd. In the stock class it was Micheal Lepelaar that took the win ahead of Vasco Christiaanse in 2nd and ETS round 3 winner George Spitteler in 3rd.
Click more to see the Stock podium…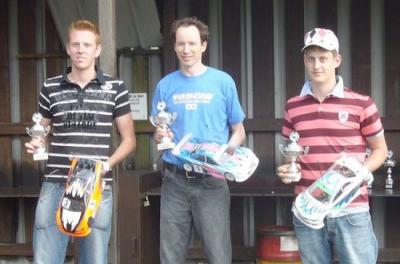 Thanks to Rob Janssen & Vasco Christiaanse for the report and photo.
---