June 15, 2008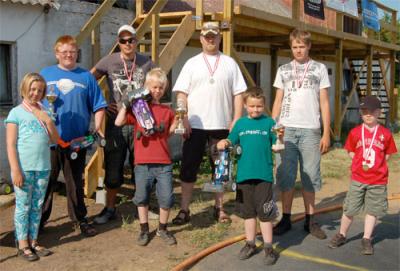 We received a report from last weekends 3rd round of the Danish DRCMU Off-Road championship that was held at the Midtjysk RC Arena track. In Stock class it was again 9 year old Jesper Rasmussen that was in the fast lane with his Kyosho and nothing could stop him, taking the win in all 3 qualifying rounds to finish up in front of Martin Kristensen in 2nd and Kim Gundorph, in his first race, 3rd, while local youngster Sebastian Sorensen claimed the 4th spot.
Continue reading…
Jesper managed to kept up the pace in the finals with victory in all three legs. In the second final Sebastian put a huge pressure on Jesper, but he managed to hold the lead to the finish line. Martin Kristensen also had some exciting battles with Kim Gundorph in the third leg of the finals but managed to hold back Kim and secure second place.
Overall result Stock class
1. Jesper Rasmussen
2. Martin C. Kristensen
3. Sebastian Sørensen
4. Kim Gundorph
5. Glen Jørgensen
6. Søren M. Larsen
7. William Jørgensen
8. Monique Williams
Jesper is in a good position in championship with 6 points ahead of Martin Kristensen.
In the 2WD class it was Lars Kristensen that was fastest from the first round of qualifying with Martin Sondergaard, who was returning to racing after a short break away, also put in some fast times in qualifying. Lars kept his pace and could put his car on pole position with Martin Sondergaard in 2nd, while Jan Larsen and Christer Rasmussen rounded out the top 4.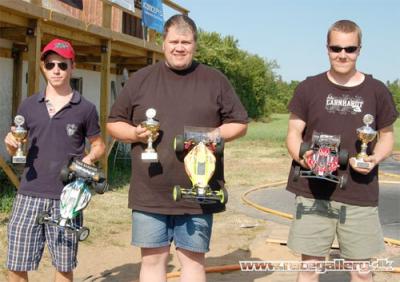 The finals saw some good battles for Lars Kristensen and he was able to win the first final. In the second final saw Christer very close to Lars but could not find a way around him until the last lap, when at the end of the strait Lars braked a little later and both cars rolled allowing Jan Larsen to pull away and take the leg victory. In the third final, Martin Sondergaard was the man to catch, with Christer pushing very hard, but was not able to catch him and Martin ended the day with a fine result, with Christer in second and Lars in third spot.
Overall 2WD result
1. Lars Kristensen
2. Jan Larsen
3. Martin Søndergaard
4. Christer Rasmussen
5. Peter Stein
6. Allan Nymark
7. Torben Nielsen
8. John Madsen
Christer Rasmussen is leading the Championship with just one point ahead of Lars Kristensen.
The 4WD class has seen a lot of growth this season and international Touring Car star Steen Graversen was visiting the race with a borrowed Kyosho Lazer. Steen raced Off-Road some years ago so it was not new for him, but many thing have been changed since then. And as always with Steen he is very serious with his racing and he was very busy in practice to find the best set-up and get used to his cars handling. In first round of qualifying Steen put in the fastest time with Lasse Nielsen and Kim Nielsen close behind. In round two it was Kim the fastest with Steen and Ulrich Rasmussen in the following places. Again in round three was Steen fast and could put his car on pole position in the front of Kim Nielsen.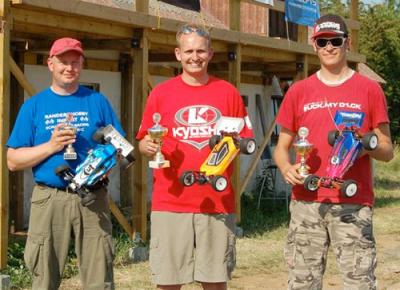 Steen managed to win the first final with Ulrich Rasmussen in second place but there was a hard battle to get in to this position against Kim Nielsen and Lasse Nielsen who were in the following places. Again in the second final it was Steen in the fast lane and Kim was pushing, but could not pass him, Christer had a good race in third position ahead of Ulrich. The third final was saw Ulrich break his chassis during a landing in the warm up lap and when the final got going it was Konrad Berger in the lead, but half way through the race his BJ4 lost a front spring making the car hard to drive. Palle Hornum closed up and could overtake Konrad, meanwhile Kim was recovering after some mistakes in first part of the final and was making his way back to the front. Palle drove his Yokomo to victory in this final, with Konrad and Kim in the following places.
Overall 4WD results
1. Steen Graversen
2. Kim Nielsen
3. Ulrich Rasmussen
4. Palle Hornum
5. Konrad Berger
6. Christer Rasmussen
7. Lasse Nielsen
8. Torben Nielsen
Kim Nielsen is the lead of the Championship with one point to Ulrich Rasmussen.
Source: Race Gallery [racegallery.dk]
---