June 10, 2008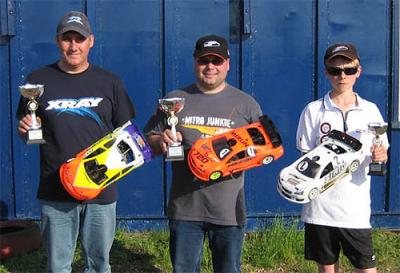 The 4th round of the 1/10th 200mm Nationals were run last weekend at the Snetterton track, and it was a GP event meaning it was run to EFRA rules and so there were bump-ups as well as a 45 minute final. As it rained all day Saturday, nobody got any practice, and so on Sunday everyone got 10 minutes free practice to find a setup. Qualifying ended with Serpent racers Mark Green and round 3 winner Kyle Branson in 1st and 2nd, with Chris Slater in 3rd and Johnathan Dobney in 4th. The final saw a good start for the front 2 drivers and within a short time they had opened a gap back to 3rd spot. Mark led for the first 8 laps until Kyle took over the lead, a position he held until the 30 minute mark when he unfortunately stripped a gear. This allowed Mark to regain the lead and Robin Hammet to move up to 2nd, while Kyle dropped back to 5th following the fitting of a replacement gear. In the end Mark Green won by a lap from Xray driver Robin Hammet, with Branson recovering to 3rd, and setting the fastest lap of the race, to take the final step on the podium.
Click here to see the final standings…
1. Mark Green – 194 Laps in 45m 10.24
2. Robin Hammett – 193 Laps in 45m 7.45
3. Kyle Branson – 188 Laps in 45m 4.55
4. Johnathan Dobney – 180 Laps in 45m 2.80
5. Peter Craig – 172 Laps in 42m 27.45
6. Simon Wood – 161 Laps in 45m 13.13
7. Alex Thurston – 145 Laps in 38m 54.69
8. Adam Walker Catchpole – 139 Laps in 33m 1.01
9. Aaron Wearn – 118 Laps in 35m 22.56
10. Chris Slater – 41 Laps in 16m 45.89
Thanks to Kyle Branson for the report and picture.
---