June 2, 2008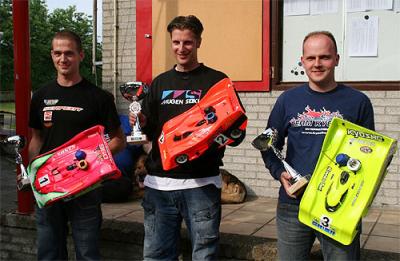 The 3rd round of the 1/8th scale on road Nationals took place at the weekend on the very fast Baanbrekers in Rucphen. The day started on a somber note with a 1 minute silence to remember Belgian racer Koen Joosens and a well known Dutch driver Raymond Soyer who was killed recently during his job as a fireman. Qualification on Sunday started on a wet track and only the 3rd run of heats saw dry track conditions, making this by far the fastest round. Only John Ermen was able to set a 23 lap qualification on his home track to take the pole position for the NK class while in the Nomac class Ronald van den Bergh was able to get the better of Jordy Blok to take the pole position. In the NK final John Ermen was the fastest man on the track but due to continued interference occuring in the same corner on the track he lost losts of time and could manage to take the 3rd place. The win went to round 2 winner Rick V racing a Mugen, 1 lap ahead of Kyosho driver Ilia Van Gastel in 2nd, with Serpent racer John Ermen a lap further back. In the NOMAC group it was Jordy Block that took the win, ending with an even faster time than Rick V who won the NK group. The Serpent driver took the win by 6 laps from 2nd placed Tim Bosman, while Jeroen Janken claimed the 3rd spot.
Click more for the final results…
NK Class results:
1. Rick Vrielijnck – 128 Laps in 30:11.130
2. Ilia van Gastel – 127 Laps in 30:02.919
3. John Ermen – 126 Laps in 30:03.753
4. Rik Veenma – 125 Laps in 30:03.395
5. Daniel van der Drift – 125 Laps in 30:04.679
6. Rob Kuijper – 124 Laps in 30:01.029
7. Arie Manten – 122 Laps in 30:07.924
8. Marcel Schouten – 121 Laps in 30:02.801
9. Maurice van den Ijssel – 82 Laps in 19:31.789
10. Miquel Hereijgers – 25 Laps in 07:41.643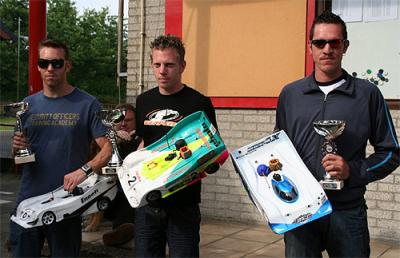 Nomac Class results:
1. Jordy Blok – 128 Laps in 30:08.659
2. Tim Bosmann – 122 Laps in 30:00.424
3. Jeroen Janken – 122 Laps in 30:06.297
4. Dennis van Lammeren – 120 Laps in 30:06.855
5. Martin Zevenhoven – 118 Laps in 30:10.786
6. Peter van Marion – 118 Laps in 30:13.990
7. Sander Tersteeg – 115 Laps in 30:01.952
8. Stefan Koenders – 55 Laps in 13:29.656
9. Jeffrey Rietveld – 54 Laps in 13:09.036
10. Ronald van den Bergh – 36 Laps in 11:41.729
Thanks to Roelof Tooms for the report & Hugo Keller for the images.
---