June 4, 2008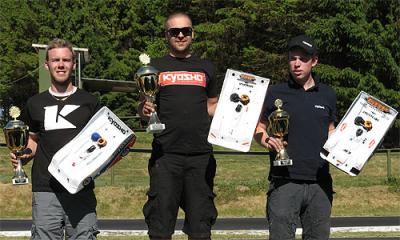 We received this report from last weekends battle for the Nordic Championship in 1/8th and 1/10th 200mm that took place in Hillerod, Denmark. The Nordics is a yearly competition where drivers from Denmark, Sweden, Norway and Finland meet to race for the glory of being the Nordic Champion. Saturday saw 5 qualifying rounds completed in very nice, sunny and warm weather. In the 1/8th scale class it was Shephard driver Martin Christensen (DK) who set the pace and made the TQ spot before the Kyosho trio Marcus Lindner (SE), Niklas Johansson (SE) and Roland Ström (SE). In the 1/10th 200mm class it was Martin Lissau (DK) who TQ'd followed by Helge Johannessen (NO), Martin Christensen (DK) and young Norwegian drivers Adrian Berntsen, all driving the Xray NT1.
Continue reading…
All the finals where scheduled for Sunday and the conditions were the same as on Saturday with sunny skies. The 1/8th scale final was run first and it was an exciting race with drivers opting for different strategies due to fuel consumption and tire changes. Martin Christensen was fast and had a comfortable lead but around the 20 min mark he ran into problems when the rear wishbone broke. This let the field open for the chasing drivers and in the end it was an all Kyosho podium with Roland Ström (SE) taking the first place, followed by Marcus Lindner (SE) and Niklas Johansson (SE).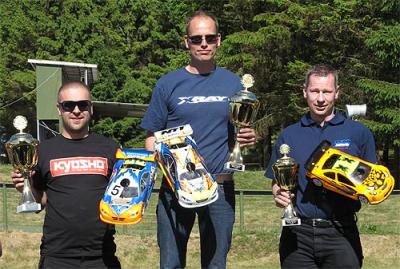 If the 1/8th scale final was exciting then the 1/10th scale final was even more exciting. Martin Lissau (DK) took the lead but in the first laps he ran into problems and needed quick repair on the car. This allowed Martin Christensen (DK) to take the lead, while Roland Ström (SE), who bumped up from the semi final, also made a clean start and was running 2nd. Martin Lissau (DK) came back into the race after the repair and was now running really fast. He had a tough but fair battle with Frank Andersen (NO) for third place and at one occasion they collided and Frank's car flipped. Martin L did not take advantage of this, instead he waited for Frank to pass. Very good sportsmanship Martin. Martin Christenson (DK) drove a steady race with his Xray car and crossed the finish line as the 2008 Nordic Champion followed by Kyosho driver Roland Ström (SE) and Frank Andersen (NO) on third place driving Xray.
Thanks to Wolfgang Lindner for the report and pictures.
---