June 17, 2008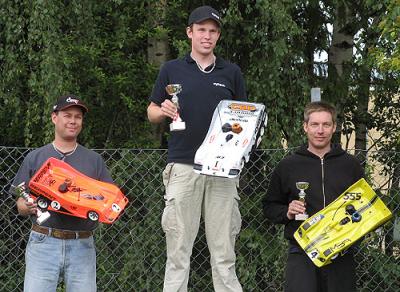 The 3rd round of the Swedish Cup took place at the fast Skanska Ring in Örebro last weekend. After a couple of weeks with very warm and sunny weather it had now become cooler and more unstable. However the outlook for the weekend was not too bad, although Friday afternoon's training was more or less cancelled due to rain. Four qualifying rounds were completed on Saturday in dry conditions. In the 1/10th 200mm class it was Kyosho driver Roland Ström who TQ'd in front of Alexander Andersson and Per-Ola Hård, while in 1/8th scale it was fast Kyosho driver Niklas Johansson who set the pace and made the TQ ahead of Serpent drivers Bengt Andersson and Christoffer Hallborg.
Continue reading…
All the finals where scheduled to be run on Sunday and the conditions were the same as on Saturday with dry conditions all day. The 1/8th scale final was run first and it was an exciting race where drivers had opted for different strategies due to fuel consumption. Tire changes were also necessary which also added some uncertainty to the race. Mid race there was a close battle between Niklas Johansson and Bengt Andersson, but Niklas, who drove a steady and controlled race, could take advantage of some quicker fuel stops and tire change and won the race, 1 lap ahead of Bengt Andersson in 2nd with Mugen racer Magnus Bengtsson in 3rd.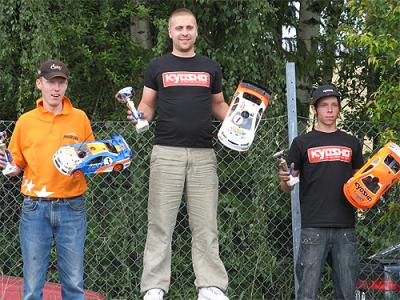 In the 1/10th 200mm final it was Roland Ström who took an early lead followed by Alexander Anderson racing a Kyosho and Mikael Brandt with an Xray. In the battle for second place Alexander and Mikael touched and Alexander's car went off the track. Roland Ström drove a controlled race as usual and was going for the finish without drama but just 5 min before the end he got a radio issue and the car went off the track in the high speed corner. The mechanic had some problems to find the car in the high grass but finally Roland was back on track and with the early lead could safely drive to victory. Serpent racer Per-Ola Hård came through in 2nd and young driver Alexander Andersson came back from the early incident to take 3rd place.
Thanks to Wolfgang Lindner for the report and photos.
---