June 23, 2008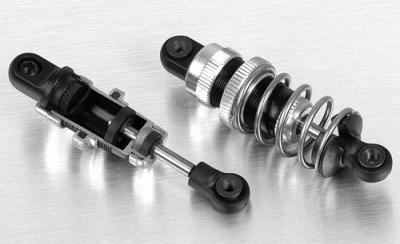 New from Xray are these premium aluminium shock absorbers, specially developed and designed to work with T2'008. These unique black hard coated aluminium shocks are loaded with all of the features needed for today's racing. When you need ultra-fine shocks for your lightweight electric touring car, the new Xray shocks have you covered. The unique shock absorbers have interchangeable internal parts, with fixed 1-piece precision pistons which are available with 3 different-diameter holes for damping adjustment: 1.1mm, 1.2mm, and 1.3mm holes. No matter what you choose, all pistons are ultra-true and round thanks to a very special mould design, resulting in ultra-free movement of the piston inside the shock body.
Click here for more information…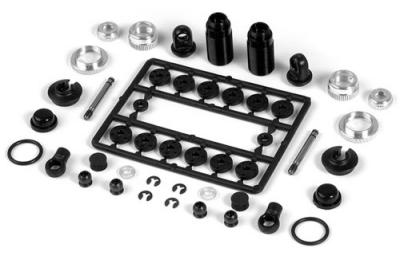 The Xray aluminium shock absorbers come with all the necessary parts to build one pair of shocks (2 shocks). Springs and shock oil are not included and must be purchased separately.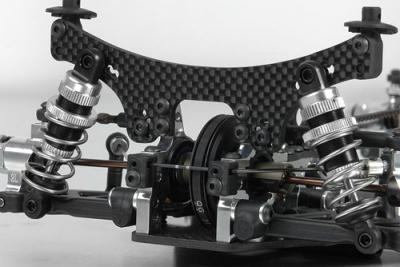 Features
– The aluminium shock body is precision CNC-machined on the world's most precise German long-turn CNC machine and every piece is robotically-inspected and measured to ensure maximum precision and tolerance. This is especially important with the inner diameter of the shock body to ensure that each one has an identical inner diameter to guarantee ultra-free shock piston movement.
– The aluminium shock body is machined from exclusive Swiss 7075 T6 aluminium ensuring maximum strength and rigidity. The shock bodies are black hard coated using Xray's own fully robotic colour coating line with purpose-mixed colour fluids, ensuring a very even layer of colour coating is applied to each shock body. After the coating process, every shock body is manually checked with high-precision callipers to ensure that the inner diameter of each shock body is exactly within the very stringent tolerances.
– The shock cartridge has been designed for self-centring shim(s) to hold silicone O-rings, guaranteeing perfect alignment in the shock body. A finely-threaded aluminium shock lower cap secures the silicone O-rings and shims in the shock body.
– Finely-threaded spring pre load collars are used to make ride height quick and easy. Even in very dirty conditions it is still possible to very precisely adjust ride height.
– The upper aluminium cap features a small vent hole which makes shock assembly very predictable and easy, since excess shock oil will escape through this vent hole ensuring that the proper amount of the oil remains inside the shock assembly. A super-soft silicone membrane – supported by a miniature foam pad (inserted inside the membrane) – provides proper dampening characteristics.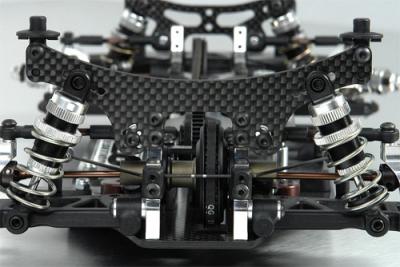 Source: Xray [teamxray.com]
---