July 23, 2008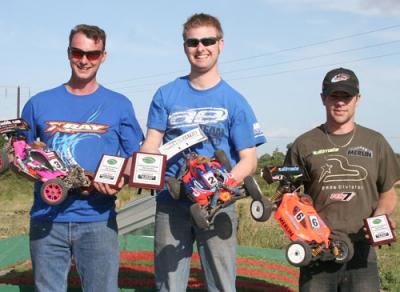 Having being forced to cancel the event at the first attempt due to poor weather conditions, the re-scheduled second round of the Irish 1:8 Off Road National Championships took place in Galway over the weekend where Team Associated driver Alan Bickerstaff completed the perfect weekend. Taking the race victory Bickerstaff made it two National wins in 24 hours having won the EP Touring Car National opener at day earlier in Northern Ireland.
Continue reading…
In qualifying it was Hobao driver Mark Harron, runner up at Round 1 of the Championship, who claimed the TQ but in the final his challenge for victory was ended by a flat receiver battery, a problem which hit Bickerstaff at the opening race. The intense three way battle for the lead was now between Bickerstaff and the Xray of Barkley Abernethy but in the later part of the race the former managed to break away and claim the win after 45 minutes of action. A strong performance by David Curtis allowed him to take a first podium finish for the Crono RS7.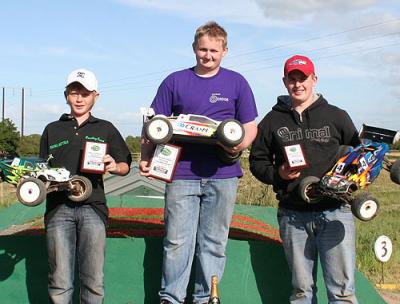 In the Truggy Final Christopher McCauley took the win from Round 1 winner Bradley Baird with Blaine Baird completing the Top 3.
Round 3 of the RCCAOI National Championship moves to the large and newly revised Banbridge track on August 10th.
Buggy A Final (45 minutes)
1. (2) Alan Bickerstaff (Associated RC8) – 81 laps in 2705.96
2. (3) Barkley Abernethy (Xray 808) – 78 laps in 2705.88
3. (6) David Curtis (Crono RS7) – 77 laps in 2732.66
4. (1) Mark Harron (Hobao) – 76 laps in 2723.98
5. (5) Pete Wells (Kyosho) – 75 laps in 2728.35
6. (8) Richard Quigley (Hong Nor) – 74 laps in 2724.27
7. (4) Gary Baird (Kyosho) – 71 laps in 2704.16
8.(10) Andrew White (Hobao) – 68 laps in 2730.75
9. (7) Nicholas Broker (Jammin) – 68 laps in 2734.79
10.(9)Darren Hill (Kyosho) – 64 laps in 2618.13
Source: Hobbies Ireland [hobbiesireland.ie]
---