July 2, 2008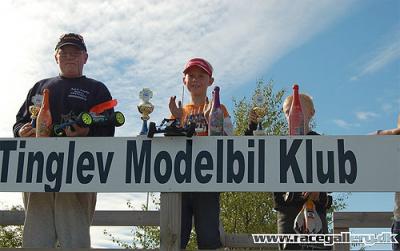 We received a report from last weekends 4th round of the Danish DRCMU Off-Road championship held in Tinglev. In the Stock class it was Martin Kristensen that was fastest, with Jesper Rasmussen close behind having made some mistakes in the first round of qualifying and a retirement in second, and that put Martin in Pole Position with winning the first and second round of qualifying. Jesper showed in the third round that he was ready for some action in the finals putting in the fastest time of day, 0,20 second faster than Martin. Again it was Sebastian Sorensen with his Tamiya in third spot.
Continue Reading…
The finals saw close racing between Martin Kristensen and Jesper Rasmussen, and it seems that Martin had found a little more power than Jesper, but Jesper stayed cool in the finals and was able to win all A-finals with Martin in second spot. Local boy Tobias Hansen managed to pass Sebastian Sorensen in the finals to claim 3rd.
Overall results – Stock
1. Jesper Rasmussen  – Kyosho ZX5
2. Martin C. Kristensen – Jconcept BJ4
3. Tobias Hansen – Asso. B4
4. Sebastian Sørensen – Tamiya X501
5. Glen Jørgensen – Asso. B4
6. William Jørgensen – Jconcept BJ4
7. Søren M. Larsen – Asso. B4
8. Monique Williams – Jconcept BJ4
9. Sebastian Stokholm – Losi XXX
In 2wd it was Rasmus Callesen who was in the fast lane from round 1, followed up by Lars Alex and Chrsiter Rasmussen. Kim Nielsen had borrowed a XFactory X6 and he was in fourth position in first round. A big surprise was local Casper Rasmussen who managed to put his B4 in the fourth spot in the A-final after last round of qualifying, Lars Alex put some fast times in the second and third round and put his car on pole position in front of Rasmus Callesen and Kim Nielsen.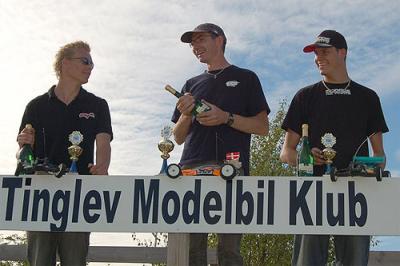 The finals again saw some very close racing, with Lars in front and Kim Nielsen pushing hard staying very close to Lars Alex in both finals 1 and 2. Lars Alex remained cool and made no mistakes and could win in front of Kim and Rasmus Callesen. Casper Rasmussen carried through his speed from qualifying into the finals and took third position in the second final in front of Lars Kristensen and took 4th spot overall.
Kim Nielsen decide not to race the third final because he wanted to focus on the 4WD class which he could win, and very unlucky for Lars Alex, he broke his car right before the start and this allowed Rasmus a clear run to the win and to take second place overall.
Overall results – 2WD
1. Lars Alex Jensen – Asso. B4
2. Rasmus Tobias Callesen – Asso. B4
3. Kim Nielsen – Xfactory X6
4. Casper Rasmussen – Asso. B4
5. Lars Kristensen – Asso. B4
6. Christer Rasmussen – Asso. B4
7. Bo Dissing  – Asso. B4
8. Mike Hansen – Asso. B4
The 4WD class was very – very tight, and it was no surprise that Kim Nielsen was fast in Tinglev like he was in round 2 on the same track, Jan Larsen also had a good pace and managed to follow Kim with Ulrich Rasmussen to third position in qualifying. Lasse Nielsen put his new B44 in fourth position and the big surprise was that Tommy "200" Jensen and Rene Jespersen made the A-final. Also Henrik Hansen made some good results in the qualifying and could put his car in position seven.
In first A-final Kim and Jan had some great racing with Jan pushing Kim, but Kim managed to make a little gap in the end of final and could win in front of Jan Larsen. Lasse Nielsen and Ulrich Rasmussen had their fight for third position and with many change of positions during the finals it was Lasse that could put his car in the front of Ulrich.
Jan Larsen could win the second finale and unlucky for Kim he had a retirement, this put Konrad Berger into second spot in front of Rene Jespersen.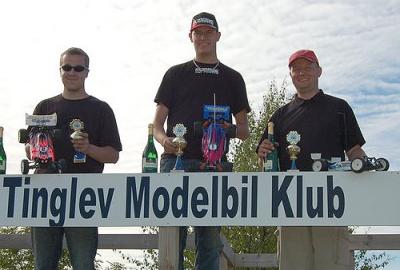 Kim Nielsen was under pressure from Jan Larsen before the third final with three drivers all in the battle for third position overall. Kim Nielsen made a perfect start of this exciting final and Jan Larsen was in second spot with Ulrich in third. Kim managed to keep a gap to Jan and Ulrich who crossed the finish line in second and third position respectively, with Henrik Hansen in fourth position.
4WD overall result
1. Kim Nielsen – Losi XX4WE
2. Jan Larsen – Jconcept BJ4
3. Ulrich Rasmussen – Kyosho ZX5
4. Konrad Berger – Jconcept BJ4
5. Lasse Nielsen – Asso. B44
6. Henrik Hansen- HB D4
7. Rene Jespersen – Asso. B44
8. Tommy Jensen – Kyosho ZX5
It will be a summer break until the 16th of August where Pandrup/Gjol Roadrunners will host the fifth round on a brand new track. In the summer time many of the drivers will compete at the Belgium Grand Prix in Kampenhout.
Source: Race Gallery [racegallery.dk]
---