July 6, 2008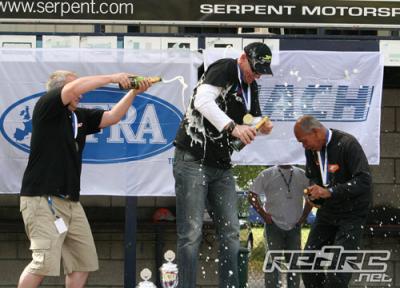 This weekend saw another European Championship being run as well as the 1/8th scale buggy Championships in Crete, with the 1/8th scale 40+ and 235mm European titles also up for grabs. Hosted by the MACH track in Heemstede, The Netherlands, this event has a relaxed vibe yet the action on the track was very serious. Qualifying took place on both Friday and Saturday and in the 40+ class it was German Serpent racer Andreas Giesa that took pole position from local Mugen racer Richard Keur in 2nd with Jacky Mouton and Rody Roem completing the top 4, both for Serpent. In the 235mm class it was top Belgian racer Robin D'hondt that took top qualifying honours in front of former European Champion Julius Kolff in 2nd, driving a new hybrid Serpent car, while last years Champion Glyn Beal started 3rd ahead of Serpent designer Rene Cornella taking the last direct qualifying position in 4th.
Continue reading the report…
With the lower finals run, the top guys got ready for their main final with the top 4 getting some track time to experience the current conditions having not raced on the track since Saturday mornings last qualifier. All went according to plan apart from 235mm pole man Robin D'hondt whose car had a steering servo failure, which thankfully broke during this session and not in the main final, a simple replacement and he was ready for the race.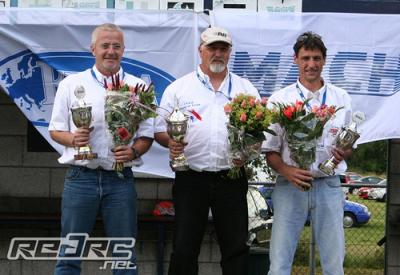 Run first, and for the first time getting their own class, was the 11 classic cars that were in attendance. This class had been TQ'd by French racer Marc Dell'Unto, a clear 7 seconds in front of Gilles Garrigou in 2nd and Claude Assomption 3rd. The 30 minute final was won by pole man Dell'Unto, despite 2nd place finisher Garrigou completing the fastest lap of the race some 4 tenths faster than the winner. Eric Lacour rounded out the top 3, finishing some 9.5 seconds behind the 2nd place finisher.
1/8th scale Classic results:
1. Marc Dell'Unto – 98 Laps in 30:06.992
2. Gilles Garrigou – 97 Laps in 30:12.136
3. Eric Lacour – 96 Laps in 30:04.615
4. Jean-François Velvindron – 95 Laps in 30:15.702
5. Christian Faye – 94 Laps in 30:08.290
6. Frederic Saulnier – 90 Laps in 30:14.231
7. Luc Chanteur – 89 Laps in 30:02.777
8. Philippe Lafenetre – 86 Laps in 30:13.891
9. Philippe Duthil – 82 Laps in 30:22.433
10. François Alain – 79 Laps in 30:07.847
11. Claude Assomption – 4 Laps in 01:36.606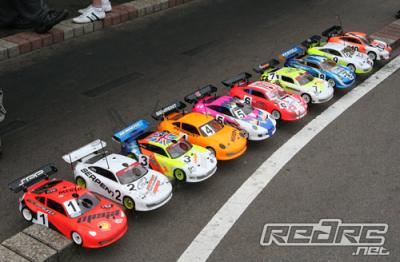 Next up was the 235mm class, which saw a great scrap at the start between Kolff and D'hondt, both battling hard and changing places at the front. D'hondt managed to stay in front for the first 7 minutes with Kolff hitting the Belgian driver a 2 occasions, as Kolff's car appeared better under braking. Julius eventually made it passed and pulled a small gap between them, but disaster struck for Robin when coming out of the pits following his 2nd stop he was forced wide on the first left hander out of the pits which rolled his car and stalled his motor. This problem lost him 3 laps and promoted the steady Rene Cornella up into 2nd with Kolff then able to relax a little, however with Robin back on the track he proceeded to punch out quick lap after quick lap to bring himself passed Cornella at the half way point and to within 1 lap of the leader. Despite doing the quickest lap of the weekend, the only driver to do a sub 16 second lap, a small mistake when closing on Julius meant the chase was over and with not enough time to make up the lost time Kolff was able to bring it home in 1st to take the title with Robin over a lap behind at the end, with Cornella taking a deserved 3rd place.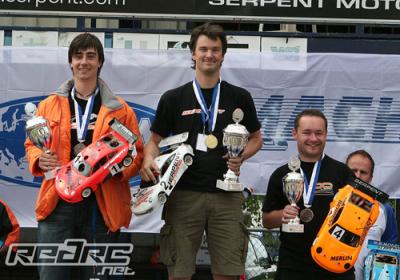 1/10th scale 235mm results:
1. Julius Kolff – 162 Laps in 45:14.871
2. Robin D'hondt – 160 Laps in 45:05.842
3. Rene Cornella – 157 Laps in 45:08.438
4. Jürgen Stark – 150 Laps in 45:09.762
5. Bart van Echelpoel – 149 Laps in 44:52.352
6. Lee Chapman – 147 Laps in 45:03.559
7. Glyn Beal – 147 Laps in 45:17.659
8. Gerhard Kandelhart – 144 Laps in 45:10.263
9. Jan Pooter – 123 Laps in 40:14.516
10. Gabor Laszlo – 40 Laps in 15:56.968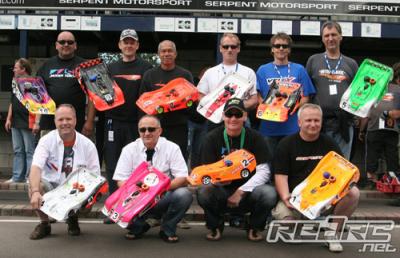 The 1/8th scale 40+ final was equally as exciting with the race starting great for all competitors who maintained their qualifying order until the 7th minute when Keur took the lead from pole man Giesa who was stuggling with a very lean motor, eating the plug one minute later, which lost him lots of time. Unchallenged, Richard was able to get his head down and pull out a gap, lap after lap, while everyone behind him struggled to keep up. One racer to go in pursuit was French racer Jacky Mouton, promoted to 2nd by Giesa's demise and battling with former World Champion Rody Roem who had come out of retirement for this race. At the 20 minute point Roem made a mistake coming on the straight which broke the rear upper wishbone and put him out of the race, at this point Keur had a lap and a half advantage over Mouton, with Luigi Pili briefly up to 3rd at this point, all the while Giesa was storming up through the field doing the quickest lap of the race by 3 tenths of a second. Following a tyre stop for Pili, an accident on the straight on his out lap put him out of the race and promoted Swiss driver Hanspeter Hulliger up to 3rd.
With just less than 20 minutes to go, Giesa had made it up to 3rd spot and Mouton had got back onto the lead lap thanks to a differing pit strategy to Keur, who was pitting at sub 5 minutes. As the race went into its final minutes Mouton started to slow, due to a dead receiver pack, and despite trying to hold on Giesa was able to get through and move into a clear 2nd position as Mouton's problems continued to get worse. Another racer recovering from an early problem was Stanley Bauer, the oldest man at the event and track local, had driven a steady race and was in 4th when Jacky had his problems. With just a few minutes to go Stanley was able to get passed and take the final podium spot behind 2nd placed Giesa and new European 1/8th scale 40+ Champion Richard Keur.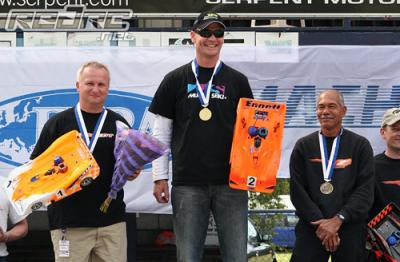 1/8th scale 40+ results:
1. Richard Keur – 172 Laps in 45:10.730
2. Andreas Giesa – 170 Laps in 45:03.489
3. Stanley Bauer – 166 Laps in 45:15.204
4. Jacky Mouton – 163 Laps in 44:06.038
5. Hanspeter Hulliger – 162 Laps in 45:02.245
6. Michael Pätz – 158 Laps in 45:08.392
7. Andreas Aegerter – 148 Laps in 45:03.164
8. Jürgen Stark – 114 Laps in 32:23.778
9. Luigi Pili – 79 Laps in 23:02.334
10. Rody Roem – 66 Laps in 17:25.048
---