July 8, 2008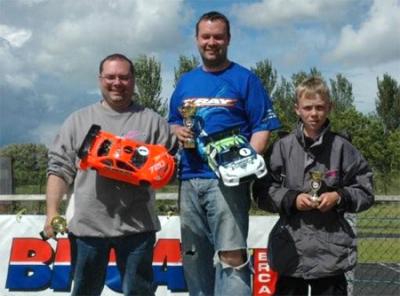 The 5th round of the BRCA 1/10th scale 200mm Nationals were run at Wrexham last weekend and rainy weather greeted the lower than normal number of competitors who attended. On Saturday it rained in the morning and didn't dry until around midday, leaving the racers with half a day of practice to fine tune their cars for Sunday's racing. On race day, the first two rounds of qualifying were wet and so it was only the last two dry rounds which would count. Team Xray driver Mark Gilliland was TQ in every round and so claimed the overall top spot from Mark Green, Stephen Brown and Kyle Branson. For the finalists, all chances of a dry final were dashed when it started raining 10 minutes before the start, leaving all racers scrambling to put wet tyres on their cars. The start of the 30 minute race saw Kyle Branson jump to the front after 4 laps followed by Steve Brown, the order remaining static until the 23rd minute when Branson's wheel came off and took him out of the lead. With the tyre back on he struggled on a drying track and this left Gilliland to pick up the pieces and take the win by 3 laps from Mark Green, with his Serpent team mate Kyle Branson holding onto 3rd.
Click more to see the final results…
1. Mark Gilliland – 95 Laps in 1801.64
2. Mark Green – 92 Laps in 1812.86
3. Kyle Branson – 90 Laps in 1807.44
4. Peter Watt – 90 Laps in 1817.32
5. Adam W Catchpole – 80 Laps in 1810.49
6. Chris Slater – 78 Laps in 1810.68
7. Stephen Brown – 75 Laps in 1664.44
8. Robin Hammett – 68 Laps in 1814.91
9. Simon Wood – 33 Laps in 666.19
10. Neal King – 2 Laps in 1014.88
Thanks for Kyle Branson for the report and photos. 
---