July 2, 2008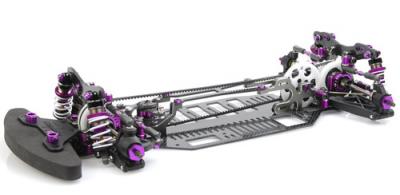 Schumacher have announced the August release of their new Mi3.5 competition touring car. The new Mi3.5 claims to be a fast and efficient superb handling touring car, based on the hugely successful Mi3 which has won countless races and championships all over the world. Further refined and lightened it is now available with the new lightweight diff mounts, "EU" chassis and top deck and enables the racer to set up their car with every adjustment possible. Coming factory assembled the Mi3.5 also offers you more choice, from the awesomely specified Mi3.5 PRO (shown above) with full carbon fibre and titanium, available in 5 or 6 cell versions or the more durable Mi3.5 RACE (6 cell) (shown at bottom of page) using Schumacher's famous S1 carbon composite material.
Click here for feature list and more photos…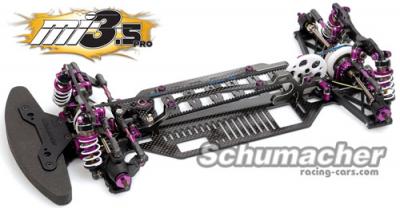 Mi3.5 Features
– New Cars now assembled ready to use
– New Improved 5 or 6 cell carbon fibre chassis option & 'EU' Top Deck
– New Improved Lightweight diff mounts
– New Shock cap for improved shock bleeding and rebound options
– New Improved CV drive shafts with thinner bones and spring steel axle
– New Front hub carrier with improved Ackerman tuning options
– New Medium Flex wishbones for increased traction and better impact absorption
– Fully adjustable, suspension geometry, wheelbase, caster, camber, roll centre, track width, Ackerman, droop, anti dive, anti squat, front toe in/out, ride height and much more.
– Efficient transmission with twin Kevlar belts and precision CNC pulleys.
– Alloy eccentric adjusters for optimum belt tension. Easy diff height adjustment to allow changes in drive shaft plunge.
– This can be used to increase or decrease traction.
– Industry first static lay shaft with ultra low rotating mass gear pulley assembly.
– Quick release diffs – Just 2 screws!!
– Super easy to work on design.
– Symmetrical chassis layout with few screws minimises tweak.
– Alloy CV drive shafts with spring steel axles and low friction blades.
– Stiff 3mm shock towers with optimised shock positions.
– Lightweight machined diff pulley, Ceramic diff balls, aerospace thrust bearing.
– Heavy duty front spool with CNC pulley.
– Twin pivot block design allows infinite adjustment of roll centres, toe-in, anti-squat, and track width on front and rear.
– New twin axis inner camber links for infinite camber link height and length adjustment.
– Fully adjustable steering including Velocity Ratio, Ackerman Angle and Ackerman Rate.
– Lightweight foam bumper.
– Spring steel suspension pins.
– Purple alloy M3 and M4 nuts.
– Battery fixing with tape or optional battery strap.
– Speed secret parts available to fine tune to all track conditions.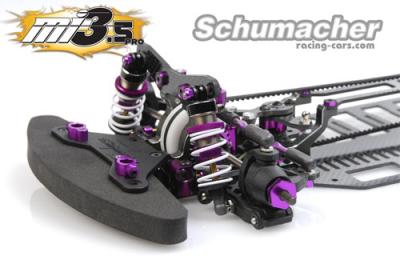 Pro only specs
– Titanium Turnbuckles.
– Ultra Low Anti roll bars.
– Ultra smooth Nickel-Teflon plated threaded alloy shock absorbers for extreme smoothness and durability.
– 2mm Aerospace carbon fibre chassis and top deck with optimised flex.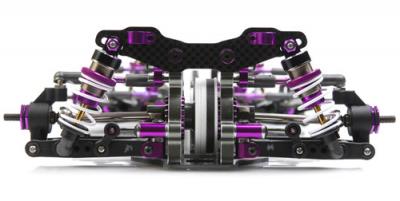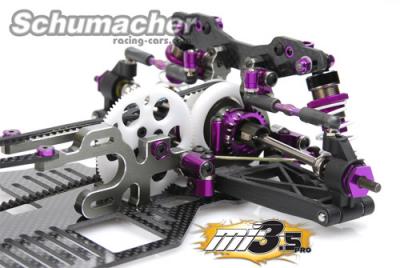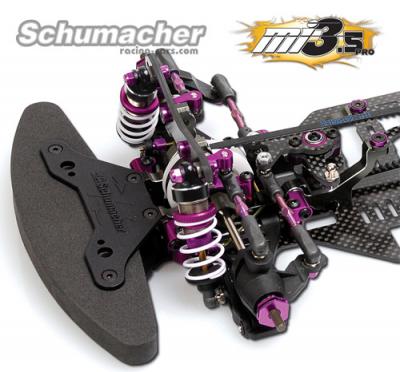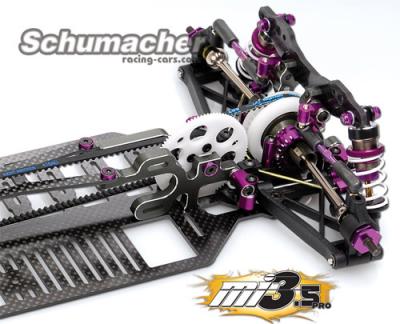 Schumacher Mi3.5 Race chassis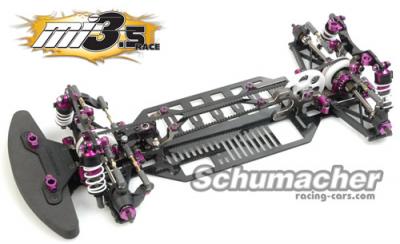 Race only specs
– S1 chassis and top deck with optimised flex.
– Spring steel turnbuckles
– Simplified shock design for ease of use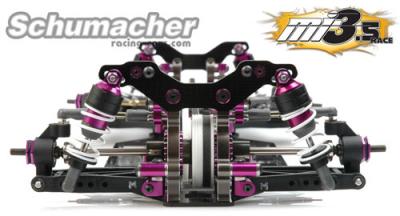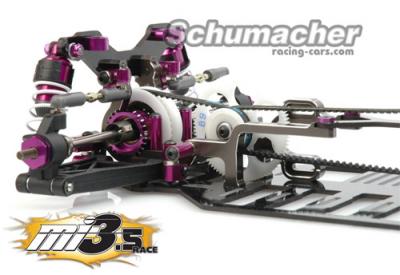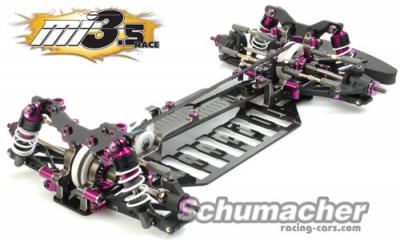 Source: Schumacer [racing-cars.com]
---