August 27, 2008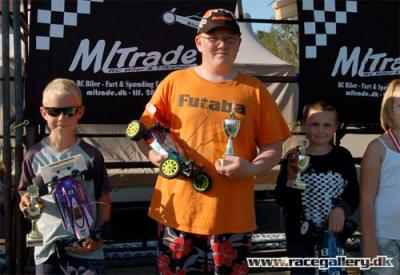 We received a report from the 5th round of the Danish Off-Road Championship, which was held recently in Gjøl very close to Aalborg. The track was brand new and the club just finished their work on the track a few day before the race. In Stock class it was Martin Kristensen in the fast lane and Jesper Rasmussen in second place with Eli Lundgaard in third position, the compact and technical track suited Martin and he was able to continue his pace into the finals and won two out of three ahead of Jesper Rasmussen and Sebastian Sørensen.
Continue reading…
Final results
1. Martin Kristensen
2. Jesper Rasmussen
3. Sebastian Sørensen
4. Monique Williams
5. Eli Lundgaard
Jesper Rasmussen leads the Championship with 202pts, Martin Kristensen 198pts and Sebastian Sørensen 189pts
In 2WD class Lars Alex was again fastest with Christer Rasmussen in second and local Rene Jespersen in third position, Kim Nielsen was driving his Losi XXX for the first time this season, but struggled a bit against the B4´s and find himself in 7th position after qualifying. Lars Alex continued in the fast lane in the finals and took first position in the A-final 1 and 2 and did not start A-final 3. Christer Rasmussen was pushing hard and found himself in second spot while Thomas Mikkelsen drove a strong race to put him into third position. Kim Nielsen showed in the finals that the Losi car still can beat B4´s and this put him in fourth position.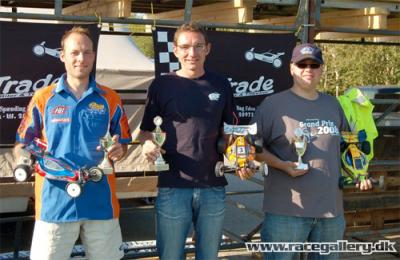 2WD overall results
1. Lars Alex
2. Christer Rasmussen
3. Thomas Mikkelsen
4. Kim Nielsen
5. Rene Jespersen
6. Lars Kristensen
7. Martin Søndergaard
8. Allan Nymark
Christer Rasmussen leads the 2WD class With 198pts ahead of Lars Kristensen 184pts, Lars Alex 159pts (missing 1 race)
In 4WD class as expected it was Kim Nielsen fastest, with Lasse Nielsen who seems to have found some speed in his B44 in second position, with Jan Larsen in third spot. Kim won the first A-final ahead of Lasse and Jan but had to retire in A-final 2, allowing Lasse Nielsen to take the first place in final 2 with Torben Nielsen in second position. In A-final 3 Kim Nielsen was again on fire and could win with Lasse Nielsen in second spot and Jan Larsen in third position.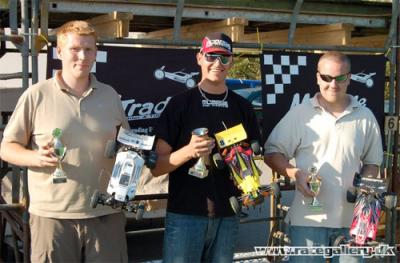 4WD overall results
1. Kim Nielsen
2. Lasse Nielsen
3. Jan Larsen
4. Torben Nielsen
5. Ulrich Rasmussen
6. Christian Williams
7. Konrad Berger
8. Christer Rasmussen
Kim Nielsen leads with 201pts, Ulrich Rasmussen 192pts, Jan Larsen 184pts
Source: Race Gallery [racegallery.dk]
---