August 15, 2008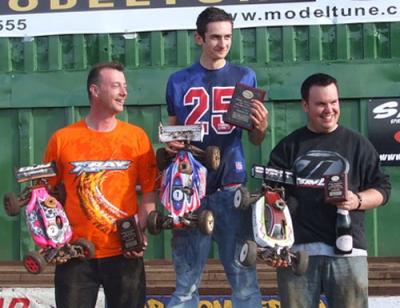 The third and penultimate round of the Irish 1:8 Buggy National Championship took place at the Banbridge and District Model Car Club's Aghalee track in Northern Ireland last weekend where Mark Harron became the third different winner of the season. Heavy showers mixed with sunny spells made for ever changing track conditions but making the most of the four qualifiers was the Hobao of Mark Harron who secured the TQ from the Xray of Barkley Abernethy.
Continue reading…
In the 45-minute Final Harron's only real treath came from Round 2 winner Alan Bickerstaff but a broken front upper wishbone ended his challenge with just 5 minutes from the finish. After hasty repairs Bickerstaff rejoined but Abernethy and Losi driver Michael Todd, winner of Round 1, had moved into the podium placings. In the end Harron cruised home to take a 2 lap winning margin.
The final title deciding round of the RCCAOI National Championship returns to Navan Nitro Nuts astro turf track, which hosted the opening round, on September 6th.
1. (1) Mark Harron (Hobao) – 47 laps in 2741.20
2. (2) Barkley Abernethy (Xray) – 45 laps in 2719.30
3. (3) Michael Todd (Losi) – 44 laps in 2710.50
4. (5) Richard Quigley (Hong Nor) – 43 laps in 2708.20
5. (6) Alan Bickerstaff (Associated) – 43 laps in 2738.76
6. (7) Darren Hill (Kyosho) – 40 laps in 2752.80
7. (8) David Curtis (Crono) – 34 laps in 2597.17
8. (9) Nicholas Broker (Hong Nor) – 20 laps in 1693.88
9.(10) Cathal Taffe (Hong Nor) – 17 laps in 1316.30
10.(4) Gary Baird (Kyosho) – 11 laps in 712.17
---