August 20, 2008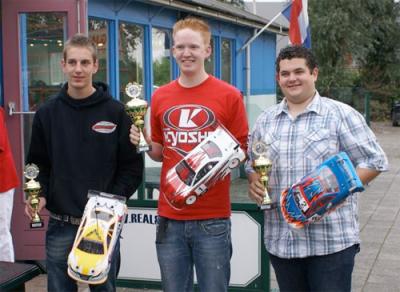 The 5th round of the Dutch Electric Touring car National Championship was held this weekend at the large and fast Groningen track in the north of the Netherlands. The weather was dry for the 5th national in a row, and in the qualifications it was saw Kyosho racer Stefan Jansen that took TQ the only racer to make 19 laps, just ahead of X-Ray racer Hugo Van Den Berg and Corally driver Luke Van Essen. In the Stock class it was Michael Lepelaar (round 3 winner) with his Tamiya who claimed the TQ spot followed by X-ray`s Frans Heinsbroek and Hotbodies driver Vasco Christiaanse on 3th place. Both class finals saw little change to the qualifying positions with Jansen taking the mod win from van den Berg in 2nd and Luke van Essen in 3rd, while in stock it was Lepelaar with the win in front of Heinsbroek in 2nd and Christiaanse 3rd.
Click more to see the stock podium…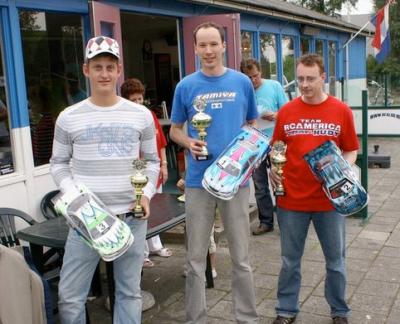 Thanks to Stefan Jansen for the report and Joep Willemsen for the images.
---