August 22, 2008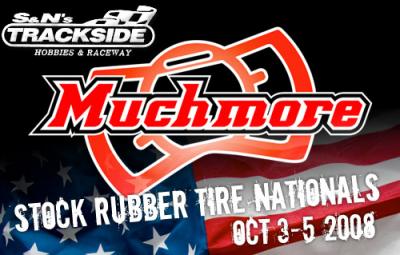 We were contacted by our good friend Scotty Ernst, who wished to inform us about an event he started a few years ago that has grown into one of their signature events at Trackside. Kicking off the 2008/09 indoor season, on October 3,4 & 5th, will be the Much More supported Stock Rubber Tire Nationals. The SRTN will feature the new Sweep tires, which have made their mark in Europe at the European Touring Series and will soon be coming to the USA. Many great things are planned for participants in the SRTN and this includes some great Much More products.
Continue reading…
For those not familiar with the SRTN racing format it in its self is very unique. Four years ago I had the privilege to be asked to be the race director and announcer of the GP World Cup in Geneva Switzerland.  It is there where I was introduced to this unique format that we use for our event. The brain child behind this format is Jean Marc Betticher who works at Team Orion in Switzerland. He came up with this great format and I feel obliged to give him credit for what I have called the JMB format and what we have incorporated into our event.
The way the format works, is that we only have 1 class or division, which for this year's event will use 13.5 brushless motors. All drivers race 3 rounds of qualifying using IFMAR Style qualifying format. At the end of these 3 rounds, we take the 1 fastest round from each driver and we take the top 32 drivers out of all racers and transfer them to the Expert division. These 32 drivers then compete in 6 rounds of Reedy Race Style heats. 8 cars per heat, heads up style racing. The driver with the best 4 out of 6 point's totals will be the champion.
But don't forget about qualifier number 33 through? These guys have just started there competition.  Qualifier number 33 now becomes TQ of the open division. All remaining drivers Number 33 through how ever many we have, will run 2 more qualifiers and the top 10 of these drivers will make the A final of the Open division and run Triple A mains for the Open Division Champion. In this open division all qualifiers including the original 3 will count towards placement in the A mains. This format is a great way for everyone to have an opportunity for a fun and exciting weekend of racing.
Much More info about the event will be coming soon with all the specifics. We hope everyone can plan to make the trip to Trackside in Milwaukee Wisconsin for the 4th annual Stock Rubber Tire Nationals.
Source: Trackside [trackside.com]
---