August 5, 2008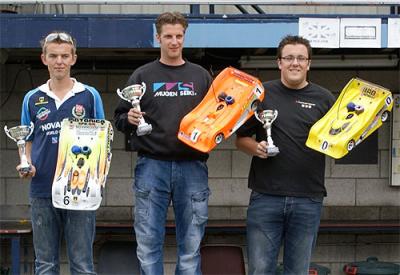 The 4th round of the Dutch 1/8th scale Nationals took place last weekend at the MACH track in Heemstede and with summer holidays in full swing there were only 44 drivers in attendance. Qualifying started dry but close to the end of the first round it started to rain and it wasn't until the end of the last series that it had dried up again. Pole position in the NK class went to Mugen racer Rick V, while in the Nomac class it was Serpent racer Jordy Blok that took the top spot. Unfortunately just before the semi finals it started to rain again and this meant a lot of racers didn't start, but regardless there was enough to fill both the main finals. In the NK class main final it was John Ermen that initially took the lead on a drying track but soon after his engine stalled and this allowed Rick to take over at the front where he stayed for the rest of the race, winning from Motonica racer Daniel van der Drift in 2nd and Mugen driver Michiel Renting 3rd. In the Nomac class, pole man Jordy took the lead but soon after it was birthday boy Roelof Tooms that passed him and he then managed to build up a 6 lap advantage which fell to 2 laps following some engine troubles near the end of the race. But Roelof held on to his lead and took the win from Jordy Blok in 2nd and Emiel Jansen 3rd.
Click more to see the Nomac podium…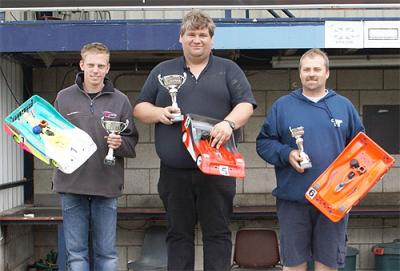 Thanks to Roelof Tooms and Fedor Eskes for the report and pics.
---