August 15, 2008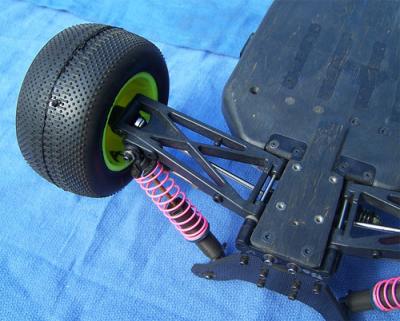 We wrote before that X Factory has been working on a 1/10 electric truck, which will be a conversion for the T4. Spotted at this week's ROAR National Championship race, being held at Hot Rod Hobbies, are production lower rear wishbones on the team's prototype X-60s. Chief engineer Paul Sinclair's X-60 is seen in the close-up photo with a very high quality molded arm which he says has passed the real-race test with flying colors so far.
We're very happy with the quality of this part. It comes from the same shop that produced our 4-Gear transmission and rear bulkhead, so these arms are the very best quality molded parts. Sinclair continued, "The chassis design has been finalized and we flew out to L.A. for the Nationals a day early so we could pick up the production prototype arms and work with the shop on the chassis tool.
Expect a mid October release date.
Source: X-Factory [2wdrc.com]
---