September 6, 2008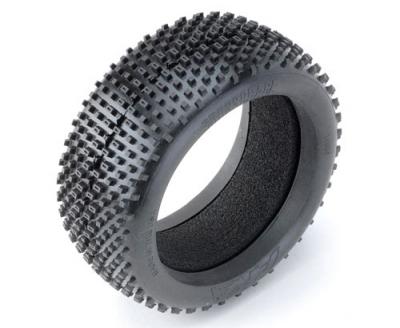 On the heels of its wildly successful launch of the City Block and I-Beam off-road racing tires, AKA is releasing two more tread patterns, the Grid Iron and the Cross Brace, just in time for the upcoming 1/8 IFMAR World Championship. These two new tread patterns begin shipping to better hobby shops around the world in late September. Like all AKA tires, these are available in all three compounds used by the factory drivers. That means there's no 'secret' compounds that are only available to team drivers, AKA sells the exact same products used by their team drivers.
Click here for further details…
Cross Brace
The Cross Brace features a medium tread depth with large, staggered center lugs for better forward bite and wear resistance in the center of the tire, which extends tread life. The outer tread features medium-size tapered square spikes. The tapered design produces stronger spikes that resist deforming under load for superior bite in all directions. The Cross Brace is ideal for hard-packed to medium loamy conditions. It's also an excellent tire for tracks that have both – a hard-packed racing line and a loamy cushion. The reinforced spikes produce great bite and long wear for the hard-packed surface, while the medium tread depth allows a smooth transition from the hard-packed to loamy surfaces with far great control.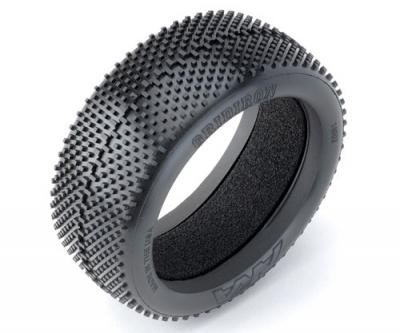 Grid Iron
The Grid Iron features a low-profile tread with small, staggered square spikes arranged symmetrically across and around the tire to provide a superior balance of forward and side bite. Long, staggered center lugs add a little extra forward bite, and greatly increase tread life by reducing wear. The Grid Iron is best suited to hard-packed and clay surfaces. The low tread depth means excellent traction in the racing line, which translates into faster lap times.
Revolutionary Inserts
The AKA tires have already set new standards in competitive RC racing, but the real buzz is about the superior performance and MUCH longer life of the inserts that are included in AKA tire/insert sets. The inserts included with most other brands of tires are far too soft and degrade well before the tire is worn out – sometimes as quickly as a single run. That means much of the performance of their tires is lost because the inferior inserts fail much too quickly. The AKA factory drivers have run a single set of inserts through at least 10 to 20 sets of tires! They are simply that durable. The inserts are also precision ground, which means the insert fits the tire perfectly right off the shelf – no trimming required. The inserts are also very well balanced, and don't degrade when exposed to water, so you can count on having the best performance from your tires as long and they'll last – and for the next 20 sets of tires!
Source: AKA [raceaka.com]
---