September 6, 2008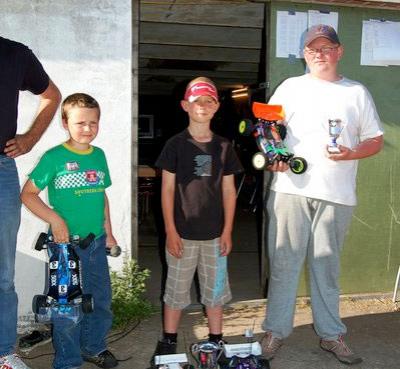 We received a report from round 6 of the Danish DRCMU Off-Road championship which was held in Ejstrupholm at the Midtjysk RC Arena. It was the second time this season that the club is hosted a championship event and again it was nice sunny weather on the Saturday. In Stock class it was Championship leader Jesper Rasmussen back in the fast lane and pushing his Kyosho very hard in the first round of qualifying in the damp but fast-drying conditions. He was the only racer able to make 13 lap and qualified ahead of Martin Kristensen in 2nd with local boy Sebastian Sørensen in 3rd.
Continue reading…
In round two Sebastian a retirement and this put female driver Monique Williams into third position, Jesper secured Pole Position with a fastest time again with Martin in second spot. In the third round Sebastian made his first 12 lap in qualifying, but again it was Jesper and Martin as 1 and 2.
Qualifying result
1. Jesper Rasmussen
2. Martin Kristensen
3. Sebastian Sørensen
4. Monique Williams
5. Torben Pedersen
In the first A-final Jesper made a clean start and was followed by Martin Kristensen who was very close to Jesper's car by the 2 minute mark, but Martin made a mistake and Jesper could pull away and win the first final. Jesper was again in front in the second final and Sebastian Sørensen has overtaken Martin and Sebastian managing to close the gap up to Jesper. Halfway in the final a camber link popped off on Sebastian's Tamiya and even with a quick repair Martin was able to take second place back again.
With two wins, Jesper could make some fun in the last final, so he borrowed a Tamiya Frog from Peter Stein and put this car on track in the last final, Jesper managed to hold the lead half way in the first corner, it was very fun to see this oldtimer (reproduction edition) between modern cars. In the mean time Sebastian put his Tamiya in front of Martin and the local boy drove a fine race winning the third A-final.
Final result Stock
1. Jesper Rasmussen – Kyosho
2. Martin Kristensen – BJ4
3. Sebastian Sørensen – Tamiya
4. Monique Williams – BJ4
5. Torben Poulsen – B4
2WD
It was as expected to see Lars Alex on the front row in round one, he was followed up by Lars Kristensen  in second spot and Christer Rasmussen in third. The 2WD class shows how close it is in round 2 were Christer Rasmussen put in the fastest time ahead of Thomas Mikkelsen and Rene Jespersen, Lars Alex found himself in fourth place. In round 3 made Lars Alex again a fastest time, with only 0.48 sec. ahead of Christer Rasmussen.
Qualifying result (A-final)
1. Lars Alex
2. Christer Rasmussen
3. Thomas Mikkelsen
4. Rene Jespersen
5. Palle Hornum
6. Lars Kristensen
7. Peter Stein
8. John Madsen
The first leg of the A-final saw Christer make a clean start managing to overtake Lars Alex. Christer stayed in front until 3 minutes where he made a mistake and it was possible for Lars Alex to overtake Christer, Lars Alex could drive his B4 to the finishline in front of Christer and Thomas Mikkelsen. In the second leg it was a close battle between Lars Alex and Christer, Lars Alex hit Christers car and both drivers was held up in this incident, and the track was clear for Thomas Mikkelsen to put his B4 in lead for first time this Saturday, with Lars Alex and Christer battling and pushing very hard from behind. Thomas won A-final leg 2 ahead of Lars Alex and Christer Rasmussen. A start-to-finish victory was possible for Lars Alex in leg 3, where he pulled away from Thomas Mikkelsen in second place and Rene Jespersen in third.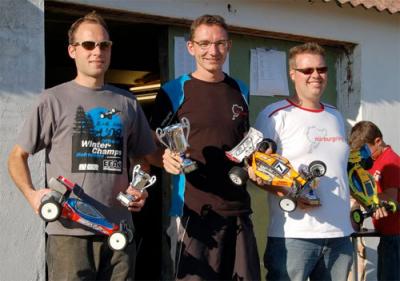 Final result 2WD
1. Lars Alex – B4
2. Thomas Mikkelsen – B4
3. Christer Rasmussen – B4
4. Rene Jespersen – B4
5. Peter Stein – B4
6. Lars Kristensen – B4
7. Palle Hornum – B4
8. John Madsen – B4
In the 4WD class championship leader Kim Nielsen was unable to show up and he had asked Ulrich Rasmussen to run his car at this race, but it was not a successful start of the day for him due to a problem with some steering bits and he had to retire in first leg and was not able to drive in round 2. Jan Larsen was in good in shape at this event, he managed to make the fastest time in round 1 and 2 of qualifying and was followed up in round 1 by the local drivers Jørn Henrik Sørensen and Christian Williams and in round 2 it was Palle Hornum in second spot and Christian Williams in third.
In round 3 Ulrich Rasmussen had to make the fastest round or it was not possible for him to start in the A-final. Halfway into the heat and Jan Larsen was in the lead when a drive shaft broke, he was unable to hold his lead. Ulrich made the fastest time in round 3 ahead of Christian Williams and Jan Larsen who managed to keep his BJ4 going with 3-wheel drive. Ulrich Rasmussen got a little help to qualifying to the A-finale from Freddy Nielsen. Freddy was disqualified in round 2 due to low weight of his car and 1 point low score in round 2 combined with 1 point in round 3 was the ticket to the A-final in seventh position.
Qualifying result (A-final)
1. Jan Larsen
2. Christian Wiliiams
3. Palle Hornum
4. Jørn Henrik Sørensen
5. Konrad Berger
6. Allan Nymark
7. Ulrich Rasmussen
8. Hugo Hansen
Jan Larsen put in a strong performance in the finals winning all three legs, in first final Palle Hornum was able to pass Christian Williams and held the second place until the finish line, meanwhile Ulrich Rasmussen put the Losi car into third position. In round two Ulrich again a good run from his seventh start position and made some passes and could cross the finish line in second place ahead of Palle Hornum and Christian Williams. In the third leg had Palle and Ulrich had a long battle for second place but Palle was able to 'close his doors' holding Ulrich behind and they crossed the finish line very close together, Jørn Henrik Sørensen put his Tamiya into fourth position.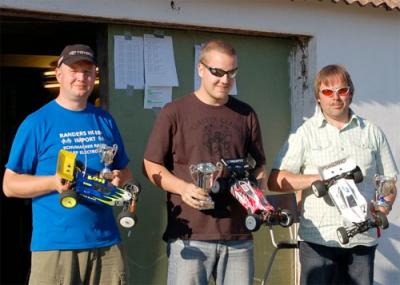 Final result 4WD
1. Jan Larsen – BJ4
2. Palle Hornum – Yokomo
3. Ulrich Rasmussen – Losi XX4
4. Jørn Henrik Sørensen – Tamiya
5. Christian Williams – BJ4
6. Konrad Berger – BJ4
7. Allan Nymark – HB D4
8. Hugo Hansen – Yokomo
Source: Race Gallery [racegallery.dk]
---